President Donald Trump's press team is working overtime to discredit media coverage of the impeachment hearings against their boss.
The House Judiciary Committee began its hearings today, with four constitutional scholars—Pamela Karlan, Michael Gerhardt, Noah Feldman, and Jonathan Turley—tasked with testifying about the constitutionality of impeaching Donald Trump. The former three were invited by Democrats, who hold the majority, while Turley was invited by Republicans.
---
White House Deputy Press Secretary Hogan Gidley criticized the New York Times' coverage of the hearings with an annotated screenshot of the outlet's digital front page, claiming it indicated a media bias.
Media bias is real, it's wrong, it's dangerous, and it must be called out and exposed. Here are four @nytimes headl… https://t.co/wS6HDvcq18

— Hogan Gidley (@Hogan Gidley)1575491249.0
Here's a closer look.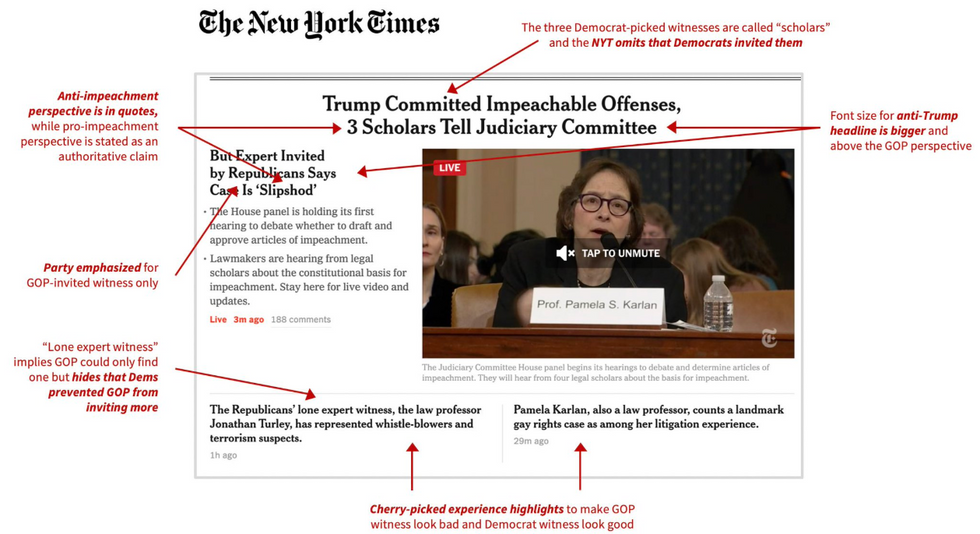 Hogan Gidley
Gidley complained that the Democrat-invited witnesses' credentials were highlighted with a larger font, the anti-impeachment perspective was dismissed, and overall that the paper showed preference for the Democratic witnesses.
Many thought he was grasping at straws.
It appears @hogangidley45 has discovered that headlines use large fonts. https://t.co/W5jYNE1ZXm https://t.co/V7EdGxT3I9

— Andrew Feinberg (@Andrew Feinberg)1575493038.0
Points like these could carry weight in an alternative universe in which @realDonaldTrump and his White House didn'… https://t.co/hL5AmN6F2B

— George Conway (@George Conway)1575492475.0
Wait until he discovers that stories are printed in *even smaller* font https://t.co/UNFAdUb7sO

— David Uberti (@David Uberti)1575495047.0
Interesting that WH feels experience representing a whistleblower makes Turley look "bad" https://t.co/kyRLo3kftv

— Alex Byers (@Alex Byers)1575491849.0
Many responded with an allusion to the Always Sunny in Philadelphia character Charlie Day conspiracy theory episode.
@hogangidley45 @nytimes get ready to see a lot of this hogan https://t.co/RjHoFAPZCi

— Bobby Lewis (@Bobby Lewis)1575492105.0
@hogangidley45 @nytimes Yes! Here's more! https://t.co/8H4knIjNle

— I Thank The Gentleman (@I Thank The Gentleman)1575491708.0
Time for everyone to get out their Charlie Day/Always Sunny in Philadelphia memes https://t.co/IacfXwVaY1

— Justin Baragona (@Justin Baragona)1575491801.0
Hogan has Big Charlie-Day-Pegboard-dot-jpg Energy https://t.co/0KCpOr2CGS

— Benjamin Freed (@Benjamin Freed)1575492130.0
Others said that at least some of the criticisms are fair.
While some headline criticisms we get in the media are over the top, there are some fair and legitimate points here… https://t.co/CsR0kikuPZ

— Lindsey McPherson (@Lindsey McPherson)1575493060.0
Well, Hogan has been busy. Several of these criticisms are fair, IMHO: https://t.co/B9B0aYSeKv

— Heather Timmons (@Heather Timmons)1575492851.0
I actually agree that it should say scholars invited by Democrats if they're going to contrast "expert invited by r… https://t.co/Sk4Ycuy0a4

— Legal Realist (@Legal Realist)1575492291.0
However, it's worth questioning why Republicans' criticisms of media bias don't extend to Fox News, which often blatantly uplifts Donald Trump.
Now do Fox. https://t.co/DgZI0neY6h

— National Security Counselors (@National Security Counselors)1575491681.0
Fox News is the biggest culprit of media bias I've ever seen. They are the most dangerous media outlet there is. https://t.co/v3ybkx61WD

— Jill Pollert (@Jill Pollert)1575493591.0
Hogan, please take an unbiased view at Fox News and you should be horrified at its bias and vitriol. https://t.co/Ul5hmPcoQd

— Hector Ruiz (@Hector Ruiz)1575495465.0
Somehow, that double standard went ignored by Gidley.