President Donald Trump's press team is working overtime to discredit media coverage of the impeachment hearings against their boss.
The House Judiciary Committee began its hearings today, with four constitutional scholars—Pamela Karlan, Michael Gerhardt, Noah Feldman, and Jonathan Turley—tasked with testifying about the constitutionality of impeaching Donald Trump. The former three were invited by Democrats, who hold the majority, while Turley was invited by Republicans.
---
White House Deputy Press Secretary Hogan Gidley criticized the New York Times' coverage of the hearings with an annotated screenshot of the outlet's digital front page, claiming it indicated a media bias.
Here's a closer look.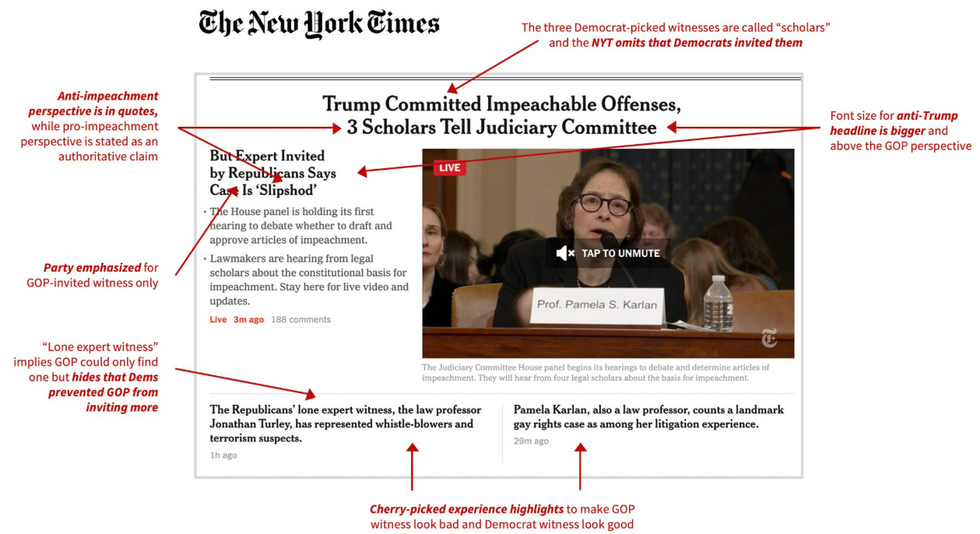 Hogan Gidley
Gidley complained that the Democrat-invited witnesses' credentials were highlighted with a larger font, the anti-impeachment perspective was dismissed, and overall that the paper showed preference for the Democratic witnesses.
Many thought he was grasping at straws.
Many responded with an allusion to the Always Sunny in Philadelphia character Charlie Day conspiracy theory episode.
Others said that at least some of the criticisms are fair.
However, it's worth questioning why Republicans' criticisms of media bias don't extend to Fox News, which often blatantly uplifts Donald Trump.
Somehow, that double standard went ignored by Gidley.