[DIGEST, Wall Street Journal, CNN]
On the heels of the college affordability plans proposed by her Democratic rivals, Hillary Clinton just unveiled her own plan to help students attend college debt free. Her plan, the "New College Compact," would provide federal dollars to states who increase their own spending on higher education.
---
Though details have yet to be ironed out, here's the highlight reel:
Public universities would be required to control spending and to reserve a certain percentage of funds specifically for instruction; they could also be held liable if students default on their loans;
In contrast to Bernie Sanders' plan to make college tuition-free, Clinton's proposal would still require families to contribute--just not at a level that would thrust them deep into debt. Additionally, students would be required to work about 10 hours per week;
Clinton would adopt the Obama administration's proposal to make two years of community college tuition-free; and
Though the plan primarily focuses on public education, Clinton's proposal affects former and future students at private colleges as well. Existing borrowers could refinance their loans at lower rates or opt in to an income-based repayment schedule with payments capped at 10% of the borrower's discretionary income. Any balance still owed after 20 years of payment would be forgiven. In contrast to the existing debt forgiveness structure offered by the Obama administration, all borrowers would be eligible for debt, forgiveness -- not just those who took out loans after 2007.
Clinton's proposal may be a key political move to the left for her campaign -- one that could re-energize young, college age voters and re-attract liberal Democrats who have been wooed away by Bernie Sanders. After all, the student debt crisis is pervasive: 43 million Americans have education-related debt; collectively, that debt has tripled over the past ten years, surpassing mortgages and credit card debt as the highest form of household credit.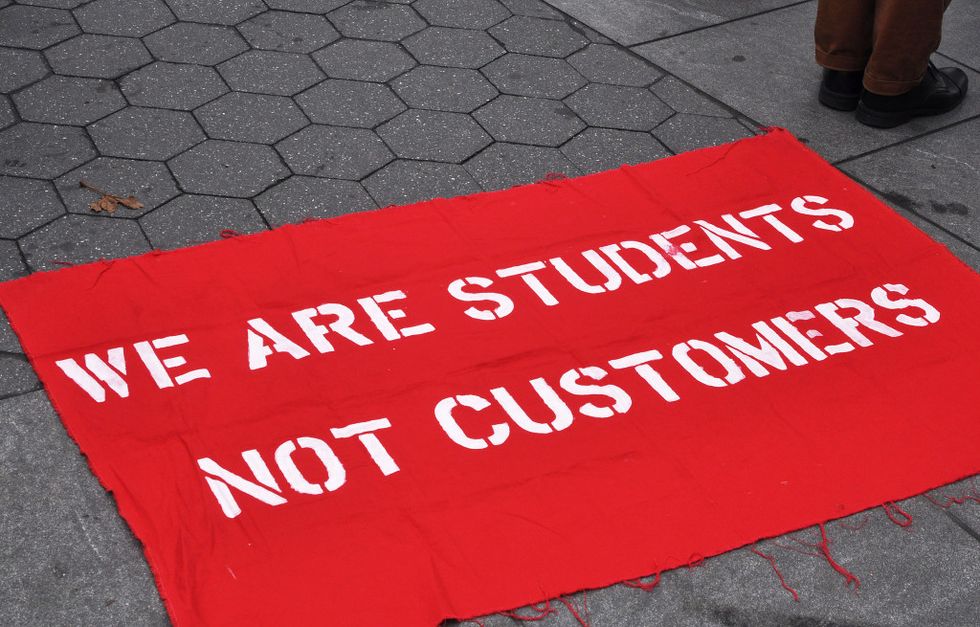 via Flickr user Michael Fleshman
All told, Clinton's proposal is expected to cost roughly $350 billion over 10 years and "would fundamentally reshape the federal government's role in higher education." While Congressional Republicans will likely agree with the cost cutting aspects of Clinton's proposal, her plan to pay for the bulk of the expense by limiting tax deductions for the wealthy -- something the Obama administration tried and failed to do -- would undoubtedly meet with tough opposition from the GOP. Jeb Bush has already come out against Clinton's proposal, saying "[w]e don't need more top-down Washington solutions that will raise the cost of college even further and shift the burden to hardworking taxpayers."
Default on student debt has been steadily on the rise since the recession -- federal research shows that about one in three borrowers are at least one month delinquent -- and damaged credit scores are bad for borrowers and the economy at large. So while Clinton's plan may be expensive, ignoring the student loan debt crisis could be even more costly to an already fragile economy.
Header image via Flickr user Tax Credits