In the first days of 2021, the Georgia runoffs for two United States Senate seats granted Democrats a rare double victory in the state and, with it, a razor-thin congressional majority.
One of the races was a special election between then-Senator Kelly Loeffler, the Republican chosen by Governor Brian Kemp to replace retired Senator Johnny Isakson. Current Senator Raphael Warnock defeated Loeffler in 2021, but now must run again for his first election to a full term.
Republicans are taking every measure they can to make sure the state doesn't go blue again, including the adoption of a voter suppression bill designed to combat the historic activism of Black voting rights advocates that was crucial in delivering the state to Democrats for the first time in decades.
The GOP's figurehead, former President Donald Trump, has already endorsed retired football player Herschel Walker for the Republican nomination, despite allegations of abuse from Walker's ex-wife, and despite Walker's current wife committing the voter fraud Trump claims to detest.
Walker and his son, Christian, have both developed social media followings from conservatives by embracing conspiracy theories, repeating far-right talking points, and feigning outrage at whatever the GOP is balking at on a certain day.
As such, Walker has embraced conservative conspiracy theories about everything from delusions of widespread election fraud to lifesaving COVID-19 vaccines.
Until recently, Walker was set to attend a fundraiser on his behalf at the Texas home of Bettina Sofia Viviano-Langlais, a far-right filmmaker and vocal anti-vaxxer.
Viviano-Langlais has been an outspoken opponent of any effort encouraging or mandating the vaccines and recently featured a swastika made of syringes as her profile picture.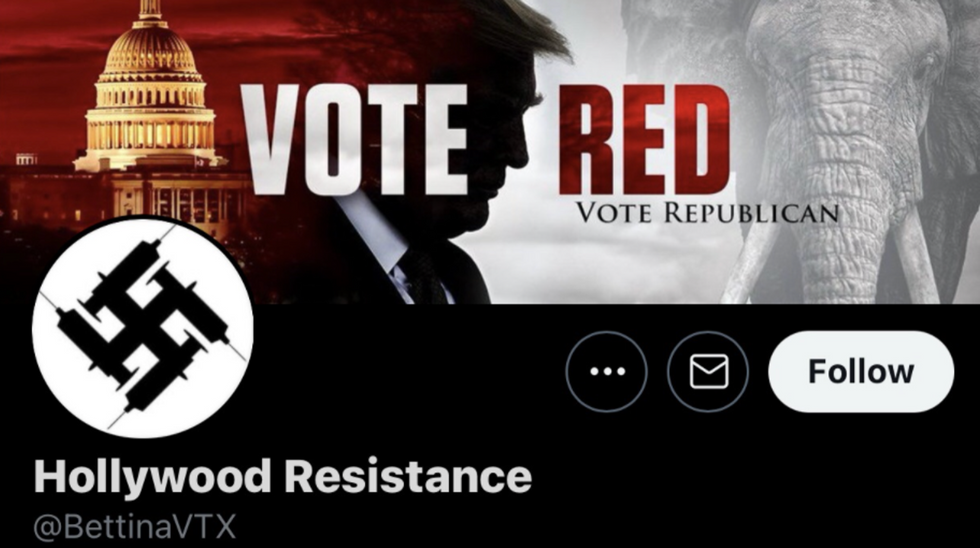 Initially, Walker's spokesperson dismissed concerns about the picture, saying:
"This is clearly an anti-mandatory vaccination graphic. Herschel unequivocally opposes anti-semitism and bigotry of all kinds."
But after continued outcry, the team has canceled the fundraiser and condemned the graphic, this time saying:
"The previously scheduled event has been called off. Herschel is a strong friend of Israel and the Jewish community and opposes hatred and bigotry of all forms. Despite the fact that the apparent intent behind the graphic was to condemn government vaccine mandates, the symbol used is very offensive and does not reflect the values of Herschel Walker or his campaign."
However, the acceptance of the fundraiser and the initial response was yet another indication of the growing extremism within the Republican party.
The campaign's mind-numbing claim that the swastika wasn't a swastika especially generated outrage.
The Georgia Senate election will be one of the most anticipated races in the 2022 midterms.