The fervor and rhetoric surrounding former Republican President Donald Trump have been building for a while now, but his latest rally hit a new and disturbing level of zeal.
At the "Save America" MAGA rally in Youngstown, Ohio, Trump was campaigning for himself—as always—and for Ohio Republican Senate candidate J.D. Vance.
Near the end of his speech, a song began to play in the background as Trump monologued a list of ways the country is supposedly going down the drain now he isn't President.
The song was identified by the New York Times as a near identical match for a song called "Wwg1wga"—an abbreviation for the QAnon slogan "Where we go one, we go all".
Trump's vaguely rhythmic monotone during this part of the speech, combined with the background music and the fact many people stood and raised an arm with one finger up while he spoke, led many to draw comparisons to cult leaders' speeches.
There is some disagreement online as to the origin of the gesture, which is new for these rallies, but many seem to agree it is also linked to either the QAnon conspiracy or the White nationalist and White supremacist slogan "America First."
Though many people also noted it's resemblance to a certain salute from 1940s Germany.
You can see footage of the moment below:
For anyone who isn't able to watch the videos, here's a still image to give you a bit of an idea of what the moment was like.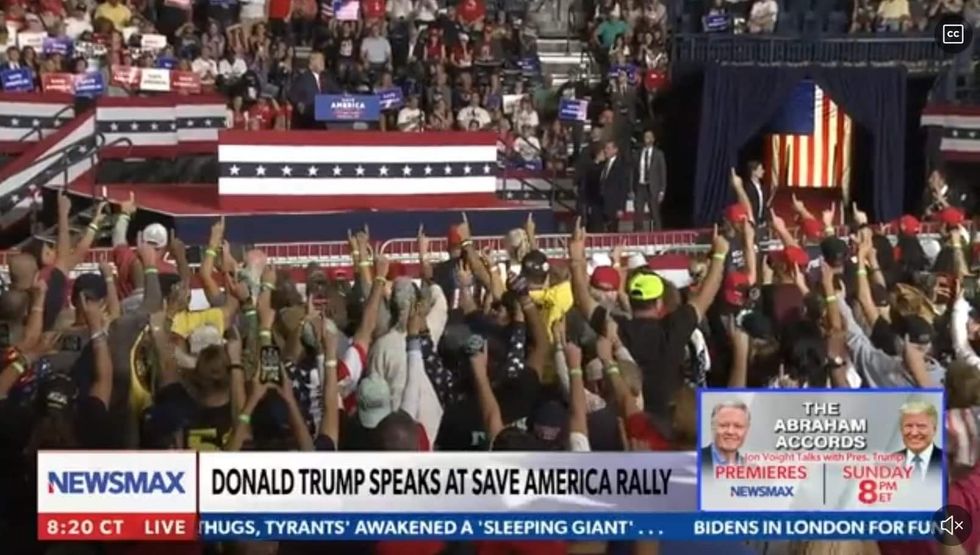 Newsmax
Many Twitter users commented on the very strong cult vibe from this latest rally.
While this is a new level of cult-like behavior at a Trump MAGA rally, it's also on brand.
It remains to be seen whether these more overt and seemingly intentional callouts to the QAnon conspiracy and White nationalism continue to be a theme.