President Donald Trump's personal lawyer, Rudy Giuliani, is back in the public eye after keeping a relatively low profile following the impeachment trial against his client.
---
The Washington Post looked into what the former mayor of New York city has been up to with his promotion of untested medical advice.

What resulted was an exposé of Giulani's repeated attempts to promote treatments for the virus that experts say aren't feasible or even safe.

The article jogged the memory of New York Magazine's Washington correspondent Olivia Nuzzi, who shared a screenshot of her text conversation with Giuliani illustrating his fitness as an expert on pandemics.

Nuzzi posted:
"This [Josh Dawsey] story about Rudy Giuliani attempting to advise President Trump during the pandemic reminds me that on March 17, as the number of positive cases in the US soared past 5,000, Giuliani asked me what the phrase "social distancing" meant."
On March 16, Nuzzi sent a text to Giuliani asking about his health, to which he answered "fine thank you" a day later.
But when Nuzzi asked Trump's personal lawyer about "social distancing," Giuliani was stumped.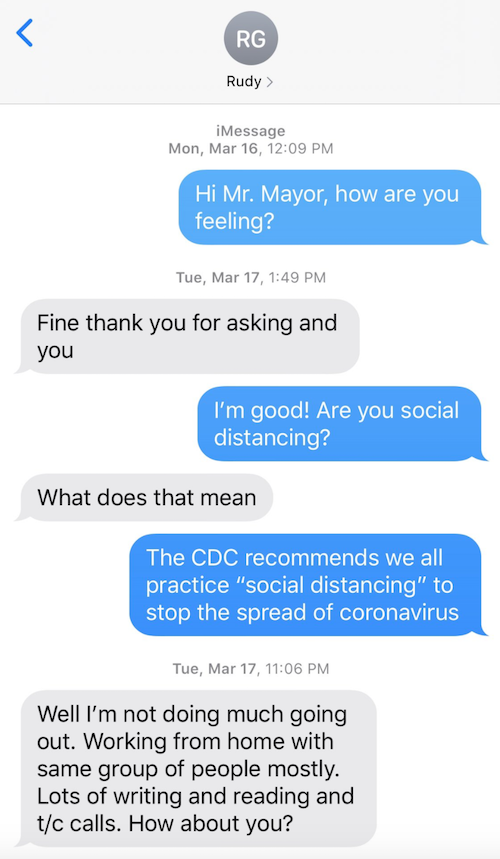 @Olivianuzzi/Twitter
The pandemic response guru who wants to advise the President responded:
"What does that mean"
People were not surprised by Giuliani's ignorance of CDC guidance considering who he is trying to impress with his recent efforts.
Some felt Giuliani was distancing from something.
People noted another expert status Giuliani bestowed upon himself.

And one request was made over and over.
During a public health crisis, listening to people with no knowledge or qualifications in medicine, public health or science who contradict "academics" is unwise.
During a pandemic, ignorance kills.
The book Grand Illusion: The Untold Story of Rudy Giuliani and 9/11 is available here.