President Donald Trump and his allies are still rejecting the reality that President-elect Joe Biden defeated Trump's attempt at a second term in office.
The Trump campaign is falsely claiming that widespread voter fraud—of which there is no evidence—tipped the election to Biden. Both Trump campaign and Trump administration officials have peddled this lie while eroding Trump's supporters' faith in American democracy.
Republicans in the state legislature of Georgia—the typically red state which Biden narrowly won—are amplifying these baseless claims to Georgia's Republican Secretary of State Brad Raffensperger.
Members of Georgia's Republican Congressional delegation signed a letter to Raffensperger urging him to look into allegations made by the Trump campaign and the Georgia Republican party of "voting irregularities."
But in the address of its letter, the delegation misspelled the name of their own state.

See if you can spot it.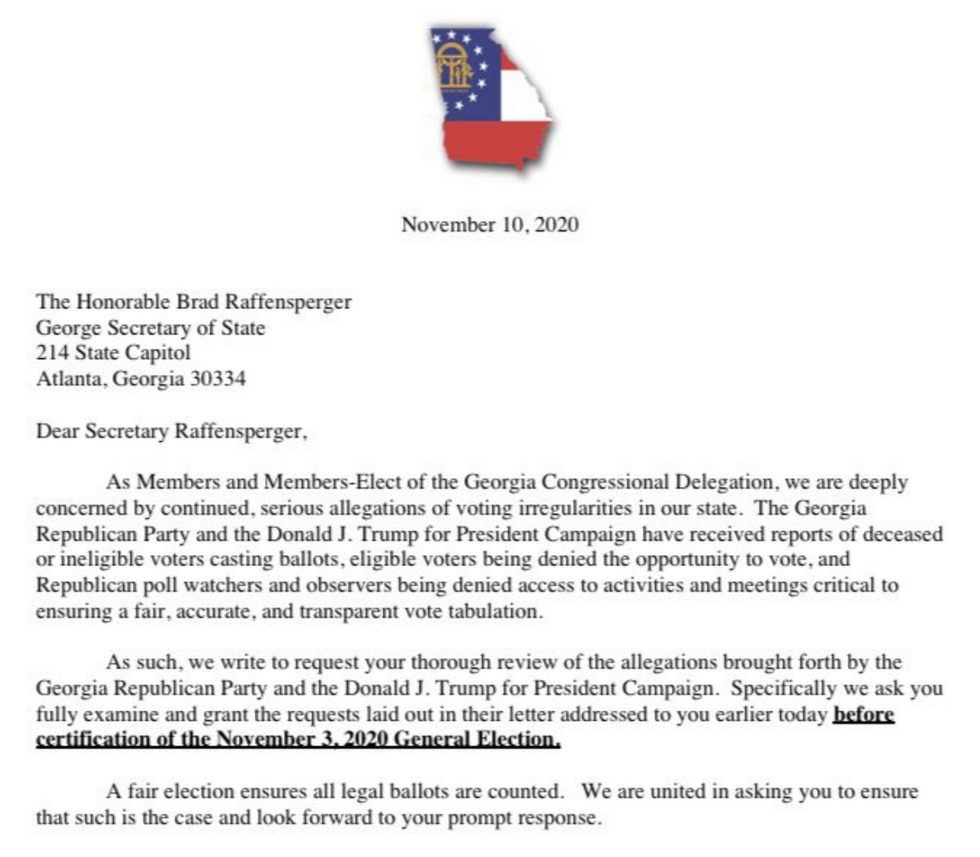 The delegation referred to Raffensperger as:

"George Secretary of State"
The typo, coupled with the bogus claims in the letter, instantly became the subject of ridicule.
In addition to the GOP state delegation, Raffensperger is facing an onslaught of pressure from other prominent Republicans in Georgia.
Georgia Republican Senators Kelly Loeffler and David Perdue, both of whose races recently advanced to runoffs, recently issued a joint statement calling on Raffensperger to resign for what they said were irregularities in Georgia's voting. They apparrently failed to realize that their names were on the same ballots as Trump's, thereby calling their own elections into question.
News later broke that Trump threatened to withdraw support from Loeffler and Perdue if they didn't publicly bolster his claims of voter fraud.
Raffensperger said unequivocally that he would not resign, and others think the tactics of these Georgia Republicans are as deplorable as they are doomed to fail.
Raffensperger is pursuing an audit of the November election in Georgia, but with Biden leading by thousands of votes, the outcome isn't expected to change.