A tweet by newly-elected Republican Congressman George Santos of New York claiming to be "biracial" resurfaced amidst his string of lies about his ancestry, education and job resumé during his campaign for office.
The embattled Republican-elect is scheduled to be sworn in next Tuesday and has no plans to step down even as he is being called out by both sides of the aisle for his blatant lies.
If the 34-year-old non-incumbent Republican assumes office, he may be investigated by the House Committee on Ethics and the Justice Department for his perpetual fabrications and possible campaign finance violations.
After Santos drew public scrutiny for making false biographical claims, including his proclamation that he was "a proud American Jew", an old tweet resurfaced in which he also claimed he was "biracial."

In a tweet from July 2020, Santos invoked Martin Luther King Jr. and railed against a "Black anthem" movement, claiming it to be "divisive."
He stated:

"As a biracial person I stand tall against segregation of any kind."
When he was asked to clarify how he was biracial—which races he claimed to be, Santos replied:
"Caucasian and black."
His response contradicted his own campaign biography stating he was the son of Brazillian immigrants who fled from the Holocaust during World War II despite genealogical records showing no indication his ancestors had any Jewish heritage nor were Holocaust survivors.

Santos drew the ire of the public after he told the New York Post he was "clearly Catholic" after previously stating he was Jewish in campaign speeches and print materials.
He walked back his claim, saying his grandmother told him stories about being Jewish and later converting to Catholicism.

"I am Catholic," he asserted:
"Because I learned my maternal family had a Jewish background, I said I was 'Jew-ish'."
The Republican Jewish Coalition denounced Santos before his interview with the media outlet, and they banned him from any of the group's future events for misleading its members.

Matt Brooks, the coalition's chief executive, said of Santos:
"He deceived us and misrepresented his heritage. In public comments and to us personally, he previously claimed to be Jewish."
Santos' former tweets claiming he was biracial resurfaced days later and quickly went viral.

People had a rough time keeping track of all of Santos' lies.
Santos–who was elected to represent New York's 3rd congressional district which covers part of northern Long Island and northeast Queens–found himself under investigation by Long Island prosecutors on Wednesday.

Nassau County District Attorney Anne T. Donnelly said during the announcement of the Santos probe:
"The numerous fabrications and inconsistencies associated with Congressman-Elect Santos are nothing short of stunning."
"The residents of Nassau County and other parts of the third district must have an honest and accountable Representative in Congress. No one is above the law and if a crime was committed in this county, we will prosecute it."
Santos' other fabrications include his employment history working for Goldman Sachs and Citigroup.
After TheNew York Times called him out on his claims, Santos told Rupert Murdoch's tabloid, TheNew York Post:
"My sins here are embellishing my resume. I'm sorry."
The soon-to-be lawmaker went on to claim he "never worked directly" for those high-profile Wall Street firms but instead worked as a vice president for a company called Link Bridge that he claimed worked with Goldman Sachs and Citigroup.
Santos said of that lie:
"I will be clearer about that. It was stated poorly."
A further review of Santos' tweets revealed his mother died on 9/11/2001 and again on December 23, 2016.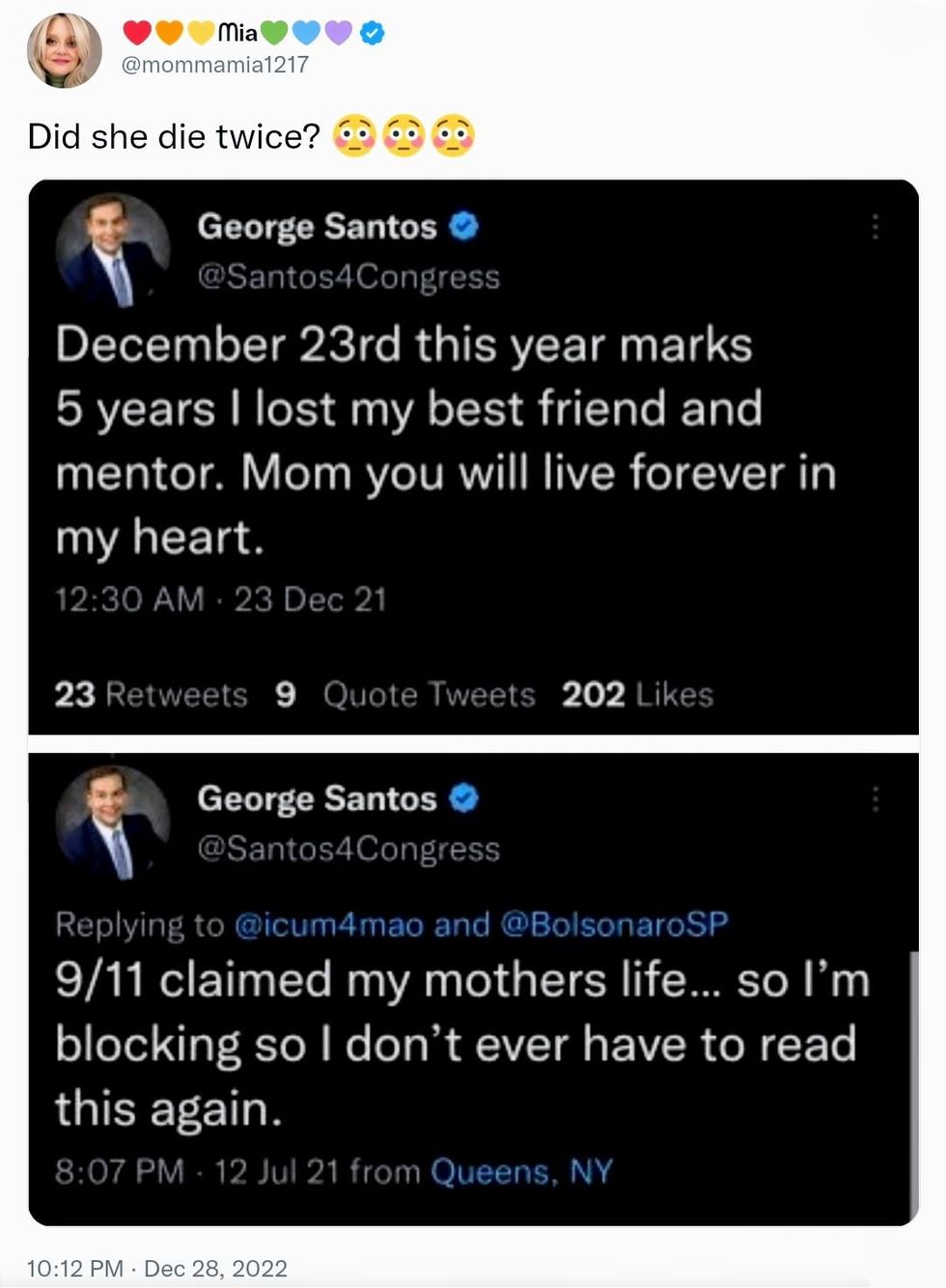 @mommamia1217/Twitter
He also admitted he never graduated from any college after claiming he received a degree from Baruch College in New York City in 2010.
He came clean, saying:
"I didn't graduate from any institution of higher learning. I'm embarrassed and sorry for having embellished my resume."
"I own up to that … We do stupid things in life."
"I am not a criminal," Santos stressed during his interview with the Post.

He added:

"This [controversy] will not deter me from having good legislative success. I will be effective. I will be good."