Target was the latest big-profile company to join the ranks of retailers like Toys "R" Us and Wal-Mart in removing gender-based labels from its aisles, citing "important questions" raised by guests about a "handful of signs" in their stores. The announcement came shortly after a disgruntled mom's Twitter post went viral.
Don't do this, @Target http://t.co/cfh3cp5Nqa

— Abi Bechtel (@Abi Bechtel) 1433198192.0
---
The picture was retweeted more than 3000 times.
While seas of pink and blue still abound, many large retailers are no longer labeling these toys as intended for girls or boys.
The Push to Remove Gender-Labeling Signs
"The gender barriers are breaking down, and both manufacturers and retailers are not labeling toys like they used to," said Jim Silver, editor in chief of toy review website TTPM. "The industry's learned that you shouldn't be labeling for a specific gender. There
To read more, continue to the next page.
are so many girls who want to be Iron Man and Captain America, and boys who want to play with Easy-Bake."
Richard Barry, global chief merchandising officer of Toys "R" Us (the store did away with its in-store gender labeling some time ago), expressed similar sentiments, noting "What we're seeing is that there are different play patterns that appeal to different kids, and gender lines are not necessarily what drives that."
Elizabeth Sweet, who studies gender-based toy marketing at the University of California at Davis, confirmed the trend of stores responding to parents' and activists' concerns. Sweet recognized that toys today are more gender-specific than at any time in the past century. However, she noted that "we're beginning to see the shift [toward eliminating gender-based labeling] in large part due to the parents and other activists saying 'Hey, we need something different out there.'"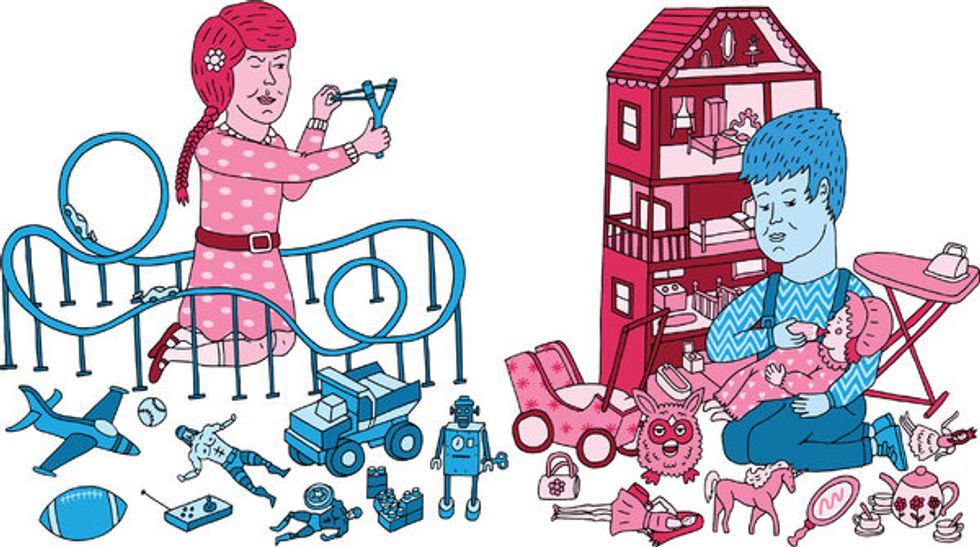 Credit: Source
"The labeling of boys and girls toys is slowly disappearing," agreed Silver, noting that Target was doing "a little bit of playing catch-up" in doing away with its labeling this fall.  
And the Push-Back
While stores are feeling the pressure to eliminate labeling, they are also feeling the sometimes competing pressure to keep profits high. They must attempt to balance the line between making it easy 
To read more, continue to the next page.
for shoppers to find what they are looking for, while not alienating customers who are offended by the old labels.
Many companies have compromised by limiting gender sorting to online sales. Said Toys "R" Us spokeswoman Alyssa Peera, "Based on feedback we've received from consumers over the years, we have continued to offer the option to search by gender, as have many other retailers, and this remains the most popular way parents, grandparents, aunts, uncles and other gift-givers search for the toys that will delight the children in their lives." Its housekeeping and ironing board play sets—which are in pink—fall under the "girl" category.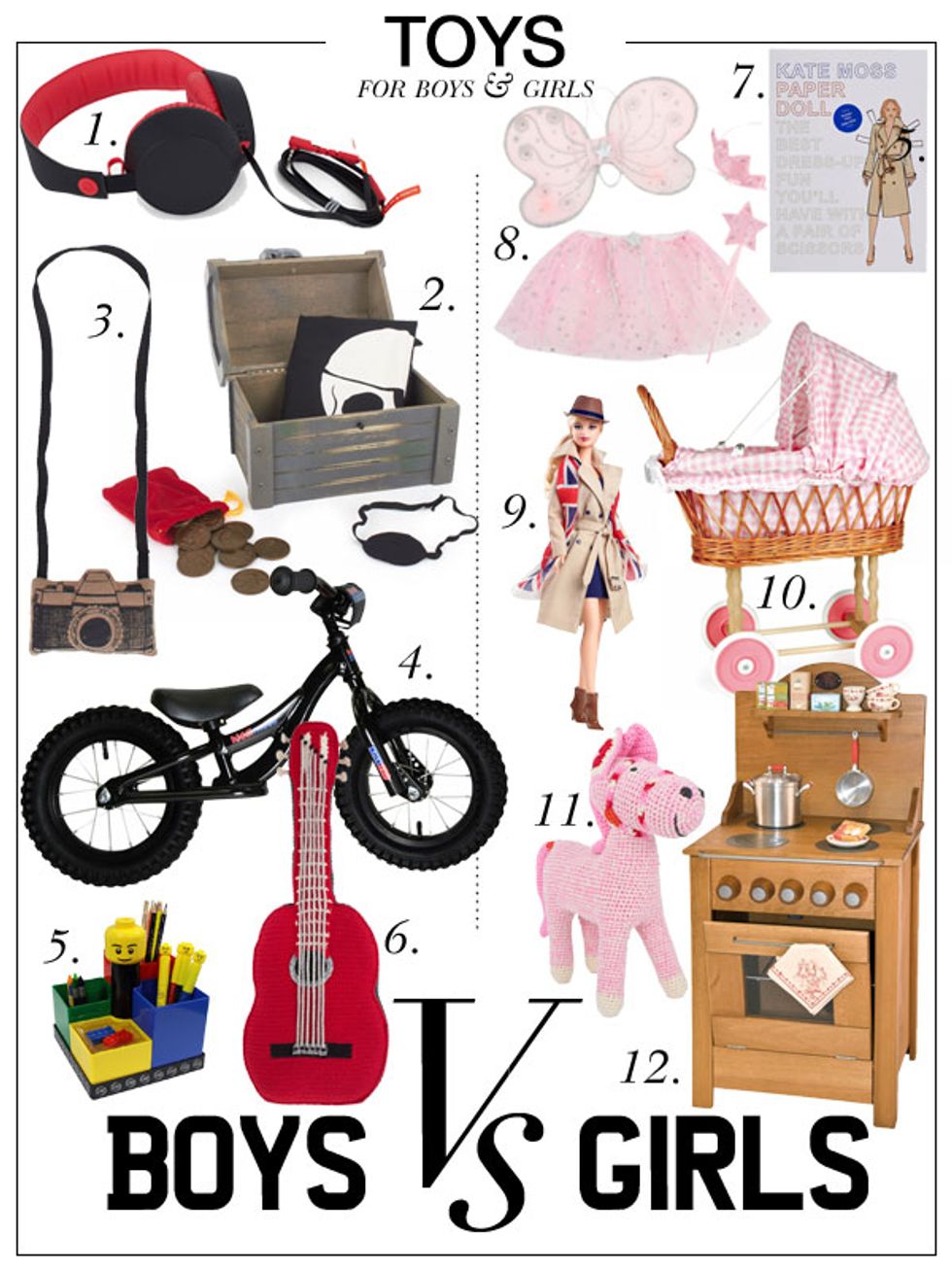 Credit: Source.
The British website for Toys R" Us, on the other hand, has done away with gender sorting online too, causing grandmother Joanne Davis to shop elsewhere. "When I saw the article, I said 'Here we go again.' It just makes it harder to shop. It's getting really tiresome, the 'politically correct.'"
The Ramifications of "Shrink It and Pink It"
While removing signage is a first step, it is hard to ignore the unrelenting tide of pink and blue toys. Even if they are not labeled, "practically everything is gendered," said Sweet. "School supplies. Toothbrushes. Snacks with bunnies or princesses on them, and snacks with Superman. And boy is the gender-neutral default. For girls, they 'shrink it and pink it.'"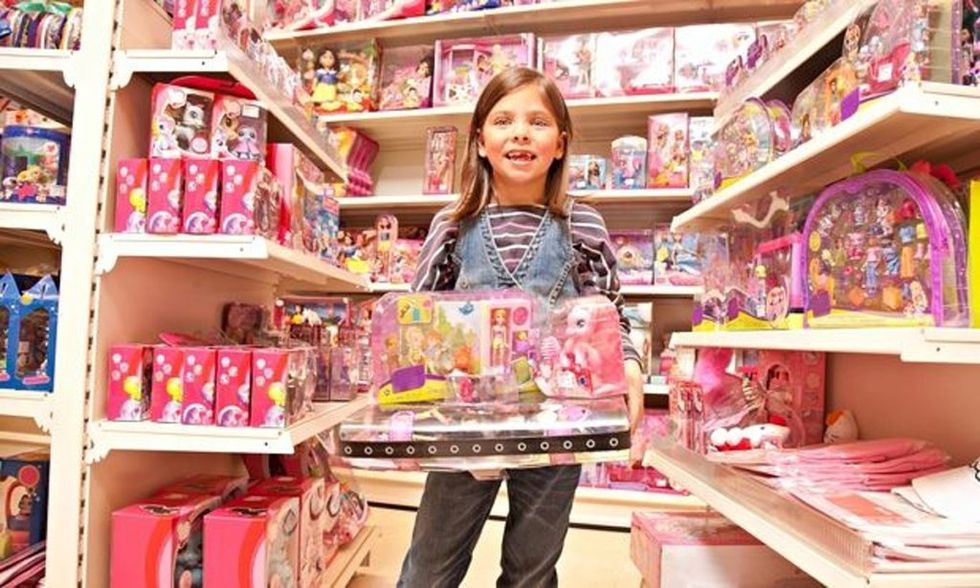 Credit: Source.
The implications of this genderization of toys, and the accompanying reinforcement of gender stereotyping, has been linked to gender disparities, including gaps in boys' and girls' self-confidence levels and career choices.
It also appears that children are remarkably sensitive to this genderization – with or without labels. Clare Conry-Murray, an assistant professor of psychology at Saint Joseph's University in Pennsylvania, and author of several studies on gender norms, stated that "kids pick up on even subtle cues in the 
To read more, continue to the next page.
environment and they begin to realize that gender is an extremely important category to adults without anyone having to tell them."
Losing the Pink?
This leads to the larger battle: how to market and manufacture traditionally gender-specific toys in a more inclusive way. There are a number of companies that already do this. Wicked Cool Toys, for instance, manufactures a Teenage Mutant Ninja Turtles pizza oven.
Some of the larger toy manufacturers plan to follow suit. Mattel, one of the world's largest toymakers, said that it is looking into ways to make the marketing more gender-neutral for its major toy lines, including Barbie and Hot Wheels. "We're not there today, but that is absolutely something the company is looking into," said Mattel spokeswoman Michelle Chidoni.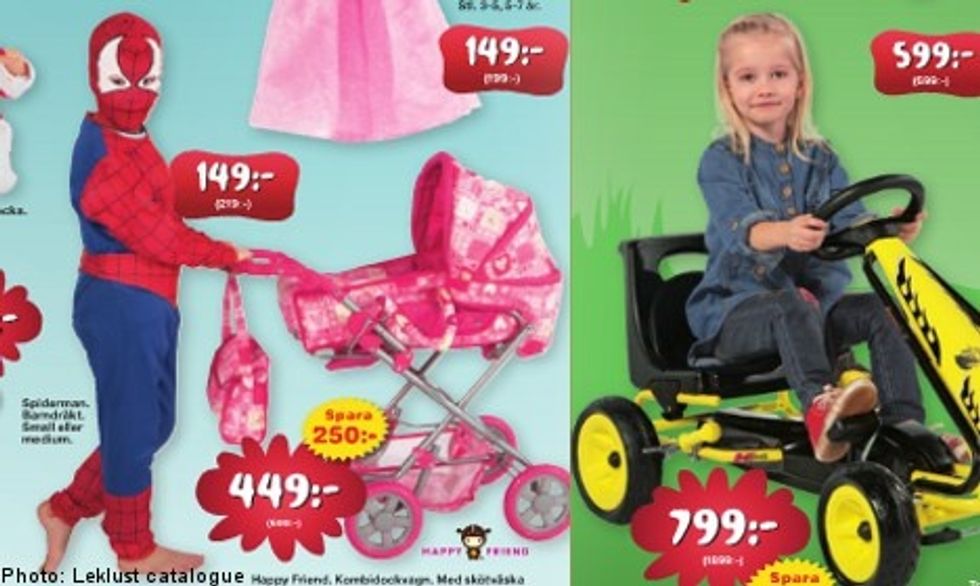 Credit: Source.
In the end, though, companies will have to go with what sells. Laurie Schacht, who publishes the toy review website Toy Insider Mom, explained "Toymakers will continue to work harder to create toys that have that gender-neutral feel. However, they are also going to make plenty of toys that are 
To read more, continue to the next page.
specifically targeted to boys and specifically targeted to girls – because that's where the sales are."
Or is it?
[post_ads]
"Research repeatedly shows that boys and girls are more alike than different," said Jess Day of Let Toys Be Toys, a British nonprofit group promoting gender-neutral toys. "We'd like to see more products that are simply aimed at children who like superheroes, and that's an interest that crosses gender."  
Mattel will be launching its line of DC Super Hero Girls next year – and, thanks to feedback from the girls who tested early prototypes – not one of them is wearing pink or high heels.