As Russian forces continue to mobilize near the Ukrainian border, Russian politician and Putin ally publicly called for the kidnapping and imprisonment of Democratic U.S. House member Ruben Gallego of Arizona.
Zhuravlyov's comments were in response to a recent congressional delegation to Ukraine that Gallego led, after which he indicated support for increasing arms provisions to the border that would "put a toll on the Russian troop movements and, you know, unfortunately that means we have to kill some Russians."
Zhuravlyov said in response:

"We should be looking for that bud, and if he travels anywhere — grab him like [Viktor] Bout and bring him over here ... This is how we should be acting ... Spend 25 years in prison and then when you get out — 'IF' you get out — you can tell us whom you wanted to kill."

Gallego offered a blunt response on Twitter.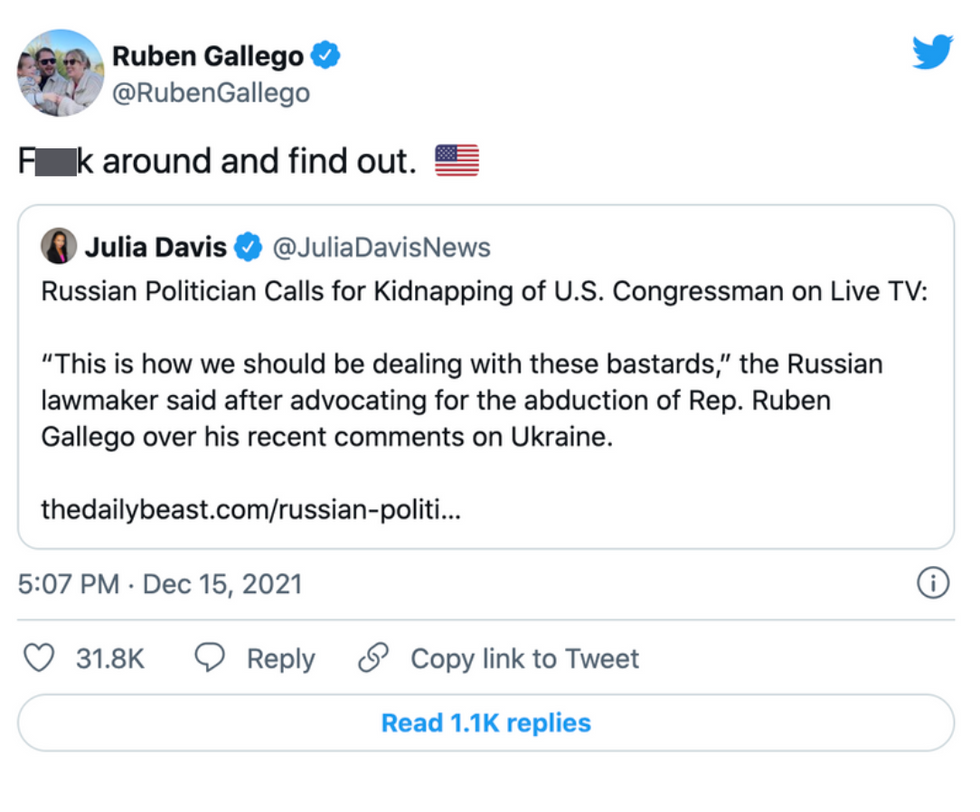 Apparently, this enraged Zhuravlyov, who said on Russian state television:

"So, you recognize what, expensive buddy? We will sentence you right here and we've loads of folks like [Spanish communist and Soviet Union agent Ramón] Mercader—former Hero of the Soviet Union—who will perform our verdict. Mercader is the one who ice-axed Trotsky to demise, as a result of the United States sentenced him to die. You, [obscenity], take a look at that, American pindos, you'll be sentenced right here and there's nothing you are able to do. You'll be working throughout [obscenity] America in a bulletproof vest, as a result of there'll be individuals who will drive you to respect [Russia]."
The threat raised eyebrows on social media.
Meanwhile, Gallego's initial response continues to garner support.
It's unclear what, if any, steps are being taken to ensure Gallego's safety.