President Donald Trump's positive test for the viral pathogen responsible for the global pandemic came as no surprise to most people familiar with the science of communicable diseases. After months of maskless MAGA rallies and meetings, most felt it was a matter of when, not if.
But Trump's diagnosis and subsequent hospitalization has left his most ardent supporters scrambling. For months they echoed Trump's claims that the pandemic was not serious, masks were unnecessary, and only the gravely ill were at risk.
Following social distancing and mask protocols or, worse, succumbing to the virus was viewed as a sign of weakness. But now the President himself—along with an ever growing list of Republican leaders—is infected.
Major Trump fan and Florida GOP Representative Matt Gaetz—whose every interaction with the POTUS leads to selfies on social media—tried to bolster the ailing President's image online.
His method?
Co-opting the Chuck Norris tough guy running joke.
Gaetz tweeted:
"President Trump won't have to recover from [the pandemic]."
"[The pandemic] will have to recover from President Trump. #MAGA"
But rather than serve as a rallying cry, Gaetz's tweet was met with mostly derision and laughter online.
People wondered what message Gaetz was trying to send.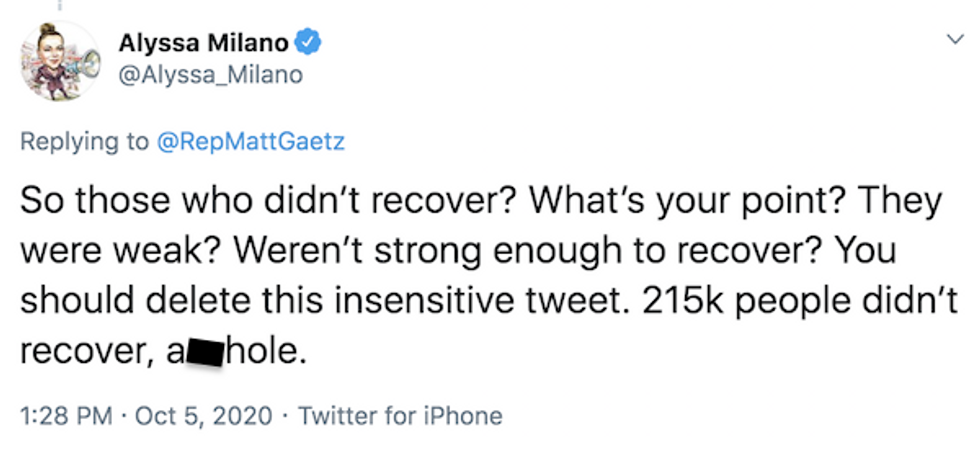 @Alyssa_Milano/Twitter
Others let Gaetz know that Donald Trump is no Chuck Norris.

@SeanPMDawn/Twitter
Others took issue with Gaetz himself.

Gaetz, who was first elected in 2016 on a pro-Trump platform, is up for reelection in November.
Gaetz faces Democrat Phil Ehr, a 26 year veteran of the United States Navy who retired in 2008 at the rank of Commander. Ehr is a Naval War College graduate, received a Master of Science in International Relations from Troy State University and represented the Navy at the Hoover Institution at Stanford University.