With officials scrambling to slow the spread of the virus that's killed over 130 thousand Americans, strategies for how to safely conduct the impending November election are becoming widely discussed.
Democrats are in favor of expanded mail-in voting measures, in hopes of minimizing lessened turnout from those unwilling to risk voting in person. Meanwhile, Republicans—led by President Donald Trump—falsely claim that mail-in voting presents an opportunity for unchecked fraud on a level that would sway an election.
The President frequently sows mistrust of mail-in voting on Twitter, but stresses that voting by mail when unable to make it to the polls in person is okay. Trump frequently makes a distinction between "absentee" and "mail-in" ballots, but the two are virtually the same.
The President railed against the expanded voting measures at the end of last month.
Now, the Republican party in the crucial swing state of Florida is using Trump's tweet in one of its mailers—with a significant portion blurred out.
The mailer encourages recipients to request their absentee ballots.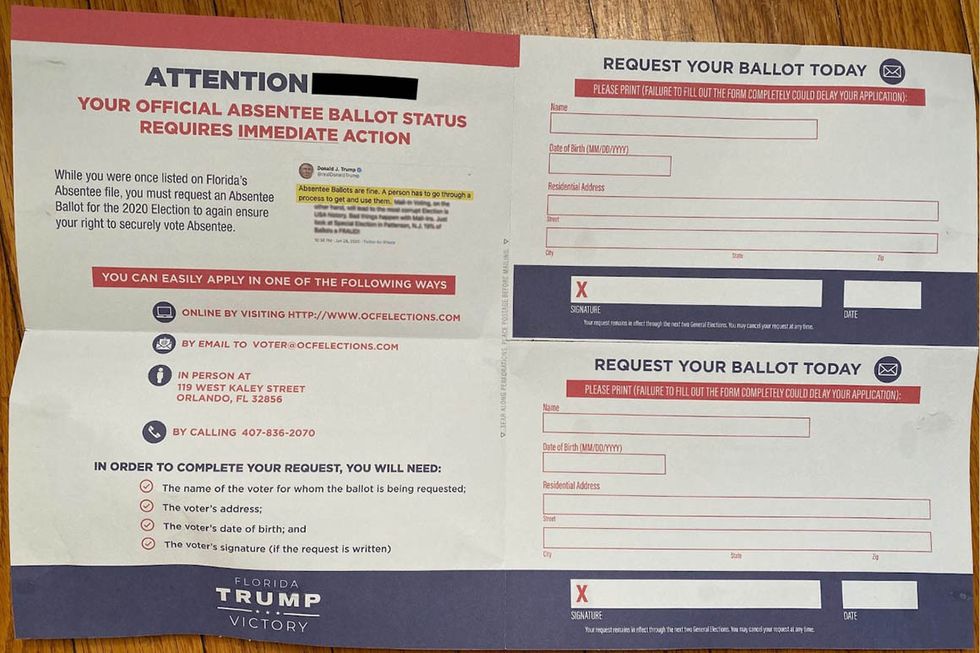 The only part included in the tweet from Trump reads:

"Absentee Ballots are fine. A person has to go through a process to get and use them."
The portion in which Trump warns that "Bad things happen with Mail-ins" is obscured.
Assuring that Trump was referring to an election done completely by mail, Florida GOP Chair Joe Gruters told Politico:
"The mailer was merely highlighting the portion of the tweet that is relevant to Florida."
Nevertheless, the doctoring of Trump's tweet indicated to some the reported concerns of Republican party officials that Trump's disparagement of mail-in voting will end up hurting the Republican base as well. This especially applies to Florida, where Republicans largely benefit from mail-in voting measures.
For many, the edited tweet rang with hypocrisy and desperation.
People frequently correct Trump's disinformation on voting by mail.
The President voted by mail in Florida's primary—despite being in Florida and residing near a polling place at the time.