The Republican Party again raised ire and eyebrows with yet another GOP candidate advocating violence against members of Congress in official campaign materials.
This time it is George Buck Jr. of Florida. The GOP politician is running for the 13th congressional district—a seat currently held by Democrat Charlie Crist.
---
In a fundraising email designed as a letter signed by the candidate, Buck's official GOP campaign stated:
"We should hang these traitors where they stand."
And who are the traitors he is targeting?
The lengthy missive stated Representative Ilhan Omar of Minnesota is secretly working for Qatar and should be punished for it. Buck also railed against his opponent Crist and Speaker of the House Nancy Pelosi.
But rather than focus on other Democratic leaders in the House or his opponent, Buck decided to focus his attack on Omar and three other women of color currently serving in the House of Representatives.
None of the women are from Florida.
Buck singled out Representatives Ayanna Pressley of Massachusetts, Alexandria Ocasio-Cortez of New York and Rashida Tlaib of Michigan.
On Buck's campaign page he describes himself as:
"Conservative, America-First Republican running to represent Florida's 13th Congressional District to fight for hardworking residents, veterans, first responders and businesses."
Buck initially denied the email was from him, telling the Tampa Bay Times:
"That was not me. I did not see that. I would never talk like that."
But in a lengthy written statement forwarded by Buck to the same publication, the GOP candidate appeared to stand behind the allegations and accusations of the campaign email. Buck acknowledged the email did originate from his official campaign, but that his campaign manager—who he declined to identify—wrote it.
A similar fundraising attempt advocating violence against Ilhan Omar resulted in the permanent Twitter suspension of Omar's 2020 Republican challenger Danielle Stella.

Buck previously ran against Crist in 2018, but was easily and overwhelmingly defeated. In 2020 he is competing against five other Republicans to take on Crist in the general election.
Whether his choice of tactics helps or hurts his chances with Florida's GOP voters remains to be seen.
However after the Tampa Bay Times shared the story, Pinellas County GOP chairman Todd Jennings shared the article on Facebook and wrote:
"There is no room for this kind of inflammatory rhetoric in either political party. No one should ever condone a candidate's call for violence."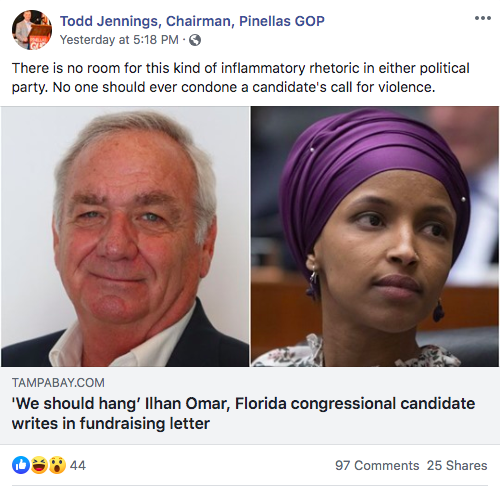 Todd Jennings, Chairman, Pinellas GOP/Facebook
On Wednesday, the National GOP also distanced themselves from Buck. House Minority Leader Kevin McCarthy removed Buck as one of the GOP's "Young Guns"—a Republican recruitment program that trains and supports candidates in competitive House races.