[DIGEST: HuffPo, ScienceAlert]
The very first modern case of a natural phenomenon called "river piracy" was recently detected in Canada.
Between May 26 and May 29, 2016, the Slims River transformed from a rushing river at three meters deep and 480 meters (1,575 feet) wide, to a shallow, trickling creek that hardly covered scientists' shoes at midstream — and it happened in a matter of just four days.
Researchers noticed this colossal change during a fieldwork expedition the following August. River gauges revealed to the team that this decrease in flow occurred due to a change in direction of water gushing from the Yukon's massive Kaskawulsh Glacier. For 300-350 years, the glacier fed the Slims River, which would eventually flow into the Arctic's Bering Sea; instead, the glacier's watershed now flows into the Alsek River and ultimately into the Pacific Ocean.
River piracy, which is essentially the diversion of the headwaters of one stream into another, is capable of changing the routing of water and sediment. Eventually, this process alters a landscape drastically.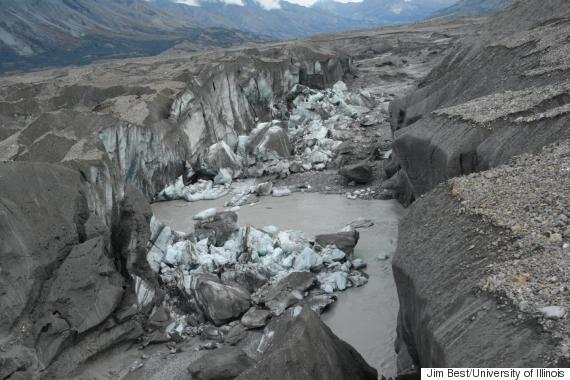 Typically, this process is studied over longer periods of time — and usually occurs over the course of thousands of years — but in the case of the Kaskawulsh Glacier, its retreat influenced and radically changed the regional drainage pattern in a brief period of time within the spring of 2016.
"Geologists have seen river piracy, but nobody to our knowledge has documented it happening in our lifetimes," according to a geoscientist on the team of researchers, Dan Shugar, from the University of Washington Tacoma. He went on to describe the current Slims River as equivalent to "a long, skinny lake."
This instance of river piracy was studied using a combination of hydrological measurements
To read more, please continue to page 2.