President Donald Trump tweeted a map of global air pollution, touting that the United States has the cleanest air in the world.
The map, which cites the World Health Organization, claims that nowhere in the United States has air pollution above the WHO suggested level.
---
In a remarkable display of consistency, Trump's tweet was misleading. The map is doctored with text claiming that there are no high pollution levels in the United States. A World Health Organization map most closely resembling the one tweeted by the president is actually a measure of fine particulate matter.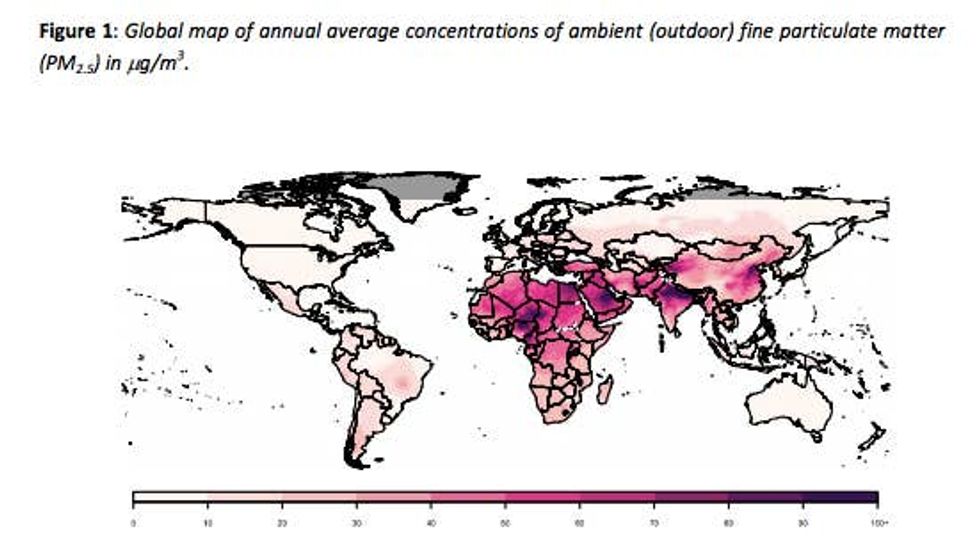 The map is deceptive because it's only measuring the amount of fine particles in the air. These tiny particles in the air create the appearance of haziness, but they aren't always harmful to the environment. For instance, the reason parts of Africa appear to have unclean air on the map is because these are desert areas with large amounts of sand--a fine particle. The map addresses particles like these but not man-made air pollutants like nitrogen oxides and sulfur dioxide--which are released with the burning of coal.
Former Environmental Protection Agency official John Walke pointed out why Trump's map was incorrect.
Walke pointed out that many of the nation's most populous cities still have pollution levels above the WHO suggested levels, and he wasn't the only one.
Not to mention, the map tweeted by President Donald Trump is from 2016, when Former President Barack Obama was still in office. While two years may not seem like enough to affect global pollution levels, the Trump administration's recklessness with environmental policy has undoubtedly made this map outdated.
The Trump administration's environmental policies have by no means been good for the planet and especially its air quality.
Though the president was quick to tout the United States' "cleanest air in the world," his own administration disbanded a crucial Environmental Protection Agency panel monitoring air pollution this month. It also weakened Obama-era air regulations for coal plants, undoubtedly affecting the outdated map he tweeted.
The deception regarding global warming seems to be just one piece of ammunition in an arsenal of constant deception meant to overwhelm Americans before going to the polls in two weeks for the crucial 2018 midterms.
We can only hope the country doesn't fall for it.