Bill O'Reilly and Fox News are reportedly negotiating O'Reilly's exit. The network's top-rated star is facing additional allegations of sexual harassment and has lost sponsors following a report from the New York Times on April 1.
According to the Wall Street Journal, which, like Fox News, is owned by Rupert Murdoch, "Fox News is preparing to cut ties with star anchor Bill O'Reilly, according to people close to the situation."
---
If O'Reilly is fired, he will be the third high-profile Fox News personality to leave in recent months. Megyn Kelly moved to NBC when her contract was up. Roger Ailes was forced out after accusations that he sexually harassed employees.
The O'Reilly Factor is Fox News's highest-rated show generally drawing more than three million viewers each night. Despite this, at least 11 advertisers have pulled their sponsorship of the show.
O'Reilly has been on vacation since April 11. The latest reports leave his return up in the air. CNN reports that Fox News did not respond when directly asked if the host will return on April 24. A Fox News board meeting is scheduled for Thursday, and what to do about O'Reilly is expected to be under discussion.
On Tuesday, another woman came forward with anonymous allegations that O'Reilly would stare at he cleavage and called her "hot chocolate." Her attorney, Lisa Bloom, said that the former Fox News clerical employee "felt like she had to do the right thing and include her story."
O'Reilly's attorney replied in a statement, saying, "This law firm has uncovered evidence that the smear campaign is being orchestrated by far-left organizations bent on destroying O'Reilly for political and financial reasons."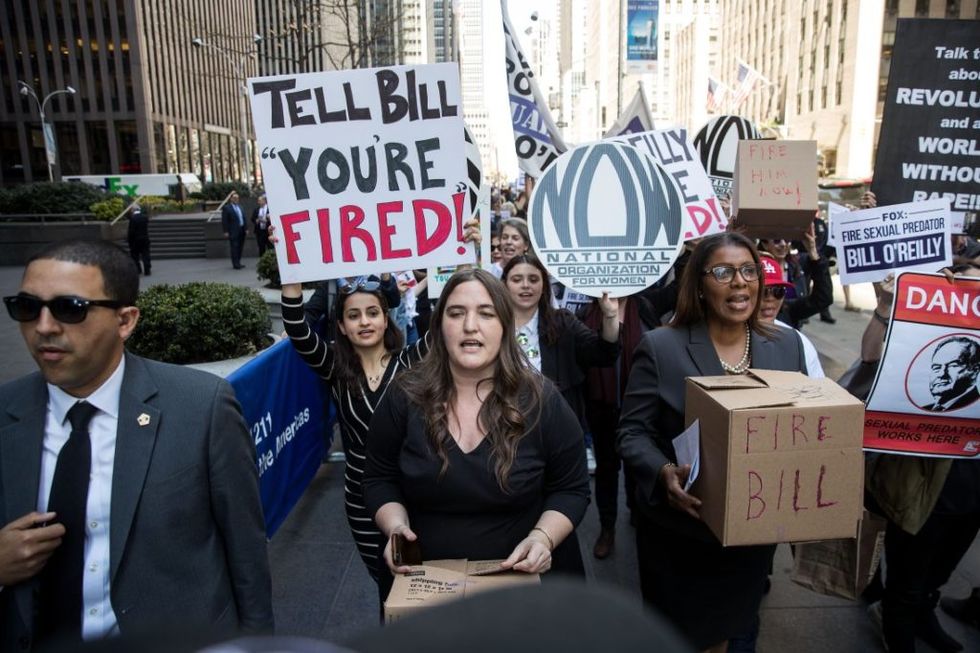 Credit: Source
Fox News's headquarters were the site of a protest against O'Reilly yesterday. Women carried signs saying "Fox: Fire Sexual Predator Bill O'Reilly." Speakers at the protest described their experiences with sexual harassment and sexual assault. An airplane flew above New York City with a banner reading "Fox: #DropOReilly, The Sexual Predator."
Color of Change, which advocates for racial justice, and UltraViolet, a feminist advocacy group, organized the protest. Member Carol Barash told Variety, "This is bigger than women, this is bigger than gender. This is about fundamental human rights for all people in the workplace."