There are only nine days left of outgoing President Donald Trump's tenure in the White House, but pressure for the President to be removed or to resign from office is growing after the unprecedented attack on the U.S. Capitol by pro-Trump extremists.
The Democratic-led House of Representatives filed an article of impeachment against Trump on Monday for inciting an insurrection. House Speaker Nancy Pelosi (D-CA) said Vice President Mike Pence would have 24 hours to rally enough cabinet secretaries to oust Trump via Section IV of the 25th Amendment.
Hopes that Trump would be out of office sooner than January 20th—when President-elect Joe Biden is inaugurated—skyrocketed after Trump's biography on the official State Department website said his term "ended" on the evening of January 11th.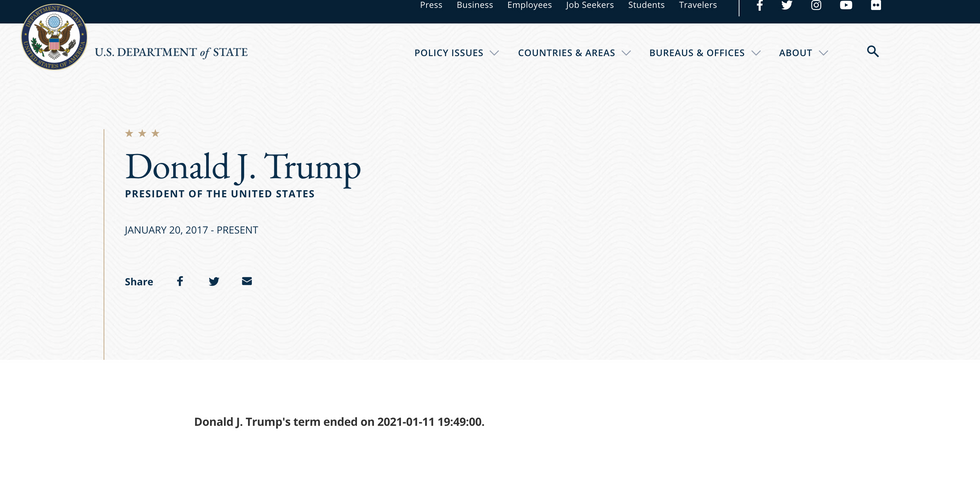 The biography read:

"Donald J. Trump's term ended on 2021-01-11 19:49:00."
The biography page for Vice President Pence featured the same message.
The internet exploded into chaos as Twitter users scrambled to figure out what happened. Was it a hack? An accident? Or was Trump actually resigning and the announcement went out early?
For nearly an hour, the internet was thrown into confusion.
But soon, Christopher Miller of Buzzfeed News revealed that sources informed him a "disgruntled staffer" was the mastermind behind the message.
In his full reporting, Miller went on to say that Secretary of State Mike Pompeo has ordered a full investigation as to what happened.
Like the State Department staffer, the internet was disgruntled to learn that Trump isn't resigning.
But Trump's critics saluted the disgruntled employee for trolling the President.
The jokes soon came rolling in.

As of now, Trump's final day in office is January 20th.