The Kansas City Chiefs overtook the San Francisco 49ers to win the Super Bowl on Sunday night.
Congratulations poured in from around the world, but among the most notable was from President Donald Trump, who addressed the team via his Twitter account.
---
There was one glaring error in the well wishes, however.
See if you can spot it.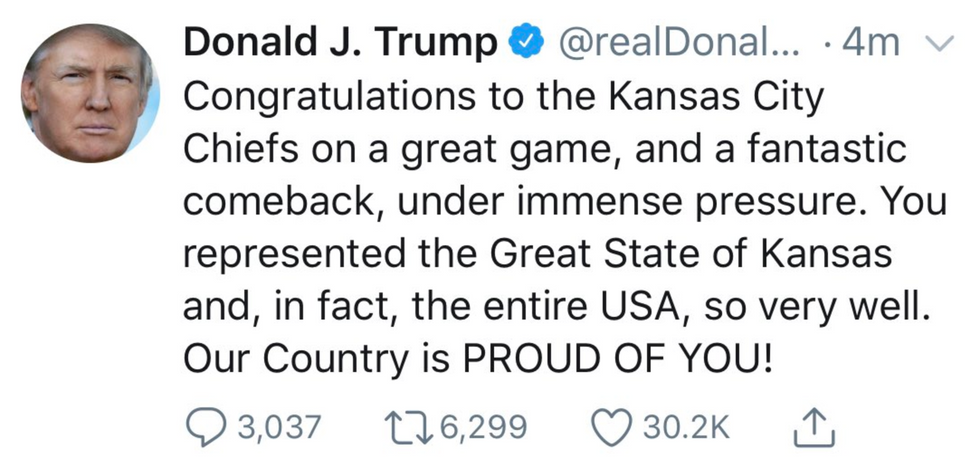 @realdonaldtrump/Twitter
He praised the Chiefs for representing the "Great State of Kansas" very well.
The problem? the Kansas City Chiefs are based in Kansas City, Missouri, which was founded before the nearby Kansas City, Kansas.
Trump soon deleted the tweet, reposting it with "Kansas" changed to "Missouri," but the ridicule had already begun and screen shots overtook the internet.
On Monday morning, Fox and Friendshost Steve Doocy tried to help cover for Trump.
Watch below.
Steve Doocy defends Trump's tweet congratulating Kansas for the Kansas City Chiefs winning the Super Bowl: "Kansas… https://t.co/HIZWB4TeKP

— Bobby Lewis (@Bobby Lewis) 1580736965.0
Doocy claimed:
"Earlier, apparently, he had sent out a tweet he had sent out a tweet that said congratulations to the people of Kansas," Doocy said. "Kansas City is in Kansas and it is also in Missouri. It's like the difference between the New York Giants. The Giants are—people call them the New York Giants but they are in New Jersey."
Doocy is correct to note that Kansas City, Kansas does exist, however it has no affiliation with the Chiefs and boasts a much smaller population than the other Kansas City—the second largest city in Missouri.
People pointed this out to Doocy.
Aside from the fact it isn't the same at all, the entire thing is pathetic. https://t.co/qhPGoeO1wU

— 🇨🇦Mark McCaw 🇮🇪 🇵🇸 Forever #WeTheNorth 🏀 (@🇨🇦Mark McCaw 🇮🇪 🇵🇸 Forever #WeTheNorth 🏀) 1580747629.0
I mean it's just like when the Detroit Tigers won the World Series in 1984 and everyone congratulated the town in O… https://t.co/IJ23cxuRXC

— Esq. (@Esq.) 1580747488.0
This is horse sh*t —KC, MO and KC, KS are totally separate municipalities with no ties other than being geographica… https://t.co/P8nE06OMfo

— Rick (@Rick) 1580747428.0
Even though Trump was wrong, people weren't surprised that Fox and Friends still bent over backwards to make him seem right.
in a cult, the leader is never wrong, even when he's wrong https://t.co/aNAjTHk2pO

— Oliver Willis (@Oliver Willis) 1580740631.0
And there it is https://t.co/Vfp4Y0lDoo

— Blake News (@Blake News) 1580738751.0
Lol lol 😆 SO predictable https://t.co/fkbC1qflXU https://t.co/p0SrAc0dd6

— Gary Hatfield (@Gary Hatfield) 1580747362.0
Of course they defend a Republican President of the United States who doesn't know simple American geography. https://t.co/3aLvAEeqKI

— David Weissman (@David Weissman) 1580738116.0
We knew this was coming... https://t.co/5tNAj2YwiX

— Molly Jong-Fast (@Molly Jong-Fast) 1580737870.0
For more tales of Trump's ineptitude, read A Very Stable Genius—an account of Trump's first three years in the White House gleaned from over 200 insider interviews. Available here.