The Kansas City Chiefs overtook the San Francisco 49ers to win the Super Bowl on Sunday night.
Congratulations poured in from around the world, but among the most notable was from President Donald Trump, who addressed the team via his Twitter account.
---
There was one glaring error in the well wishes, however.
See if you can spot it.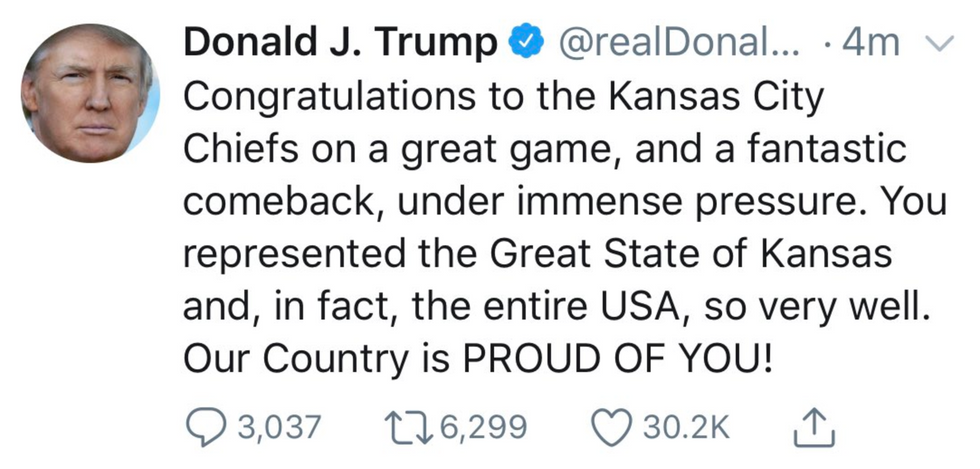 @realdonaldtrump/Twitter
He praised the Chiefs for representing the "Great State of Kansas" very well.
The problem? the Kansas City Chiefs are based in Kansas City, Missouri, which was founded before the nearby Kansas City, Kansas.
Trump soon deleted the tweet, reposting it with "Kansas" changed to "Missouri," but the ridicule had already begun and screen shots overtook the internet.
On Monday morning, Fox and Friends host Steve Doocy tried to help cover for Trump.
Watch below.
Doocy claimed:
"Earlier, apparently, he had sent out a tweet he had sent out a tweet that said congratulations to the people of Kansas," Doocy said. "Kansas City is in Kansas and it is also in Missouri. It's like the difference between the New York Giants. The Giants are—people call them the New York Giants but they are in New Jersey."
Doocy is correct to note that Kansas City, Kansas does exist, however it has no affiliation with the Chiefs and boasts a much smaller population than the other Kansas City—the second largest city in Missouri.
People pointed this out to Doocy.
Even though Trump was wrong, people weren't surprised that Fox and Friends still bent over backwards to make him seem right.
For more tales of Trump's ineptitude, read A Very Stable Genius—an account of Trump's first three years in the White House gleaned from over 200 insider interviews. Available here.