Former Republican President Donald Trump is once again sparring with Florida Republican Governor Ron DeSantis, this time reposting a meme of DeSantis "grooming high school girls with alcohol" on his Truth Social platform.
The meme Trump shared depicts a blurred-out DeSantis—his biggest competition for the 2024 Republican presidential nomination—drinking alcohol with high-school-aged girls. DeSantis worked as a history teacher at the posh Darlington School before being accepted into Harvard Law School.
The caption reads, "Here is Ron DeSanctimonious grooming high school girls with alcohol as a teacher," followed by the vomit emoji.
Trump said:

"That's not Ron, is it? He would never do such a thing!"
You can read Trump's post below.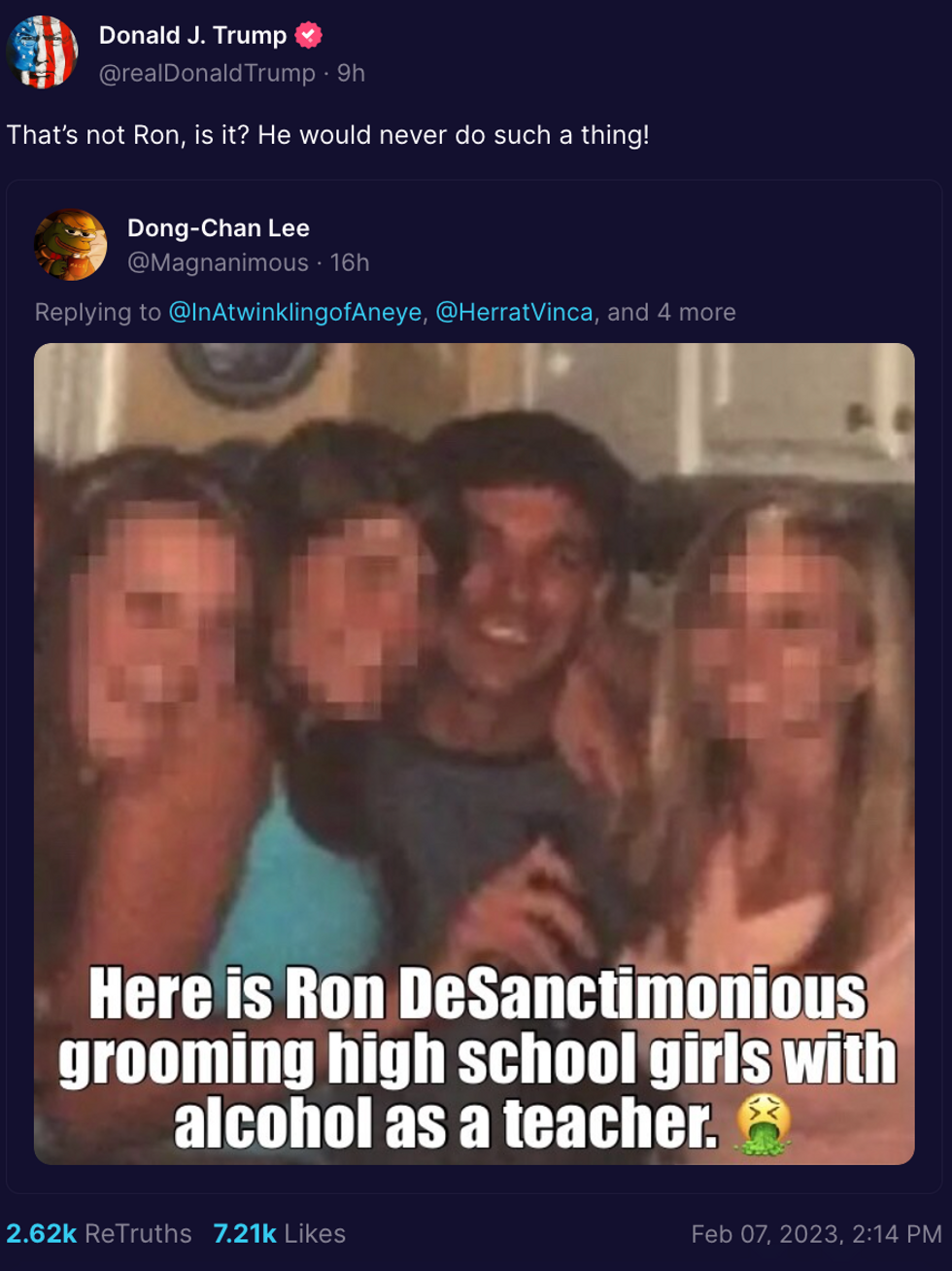 @realDonaldTrump/Truth Social
The photo Trump shared originated on Hill Reporter, a blog run by a Democratic Super PAC, though the story behind the image is from The New York Times, which reported in November, citing anonymous former students, that DeSantis went to parties with the seniors, attending at least two parties where alcohol was served.
According to the Times, while some students have now questioned DeSantis' behavior—which occurred after graduation—they reported they weren't bothered by it at the time.
As tensions between the two 2024 hopefuls heated up, news of Trump's attack quickly went viral on social media.

And it's quite clear the two will be at each other's throats come 2024.
Trump's attack against DeSantis came just two hours after DeSantis praised an attorney representing Dominion Voting Systems in their lawsuit against MyPillow CEO and Trump ally Mike Lindell.
DeSantis said Libby Locke, a partner at ClareLocke LLP, "is an extraordinaire when it comes to First Amendment defamation" as he introduced her at a roundtable discussion.
DeSantis has not made an official announcement about a 2024 run but Trump has attacked him just the same, raising the ire of conservatives after referring to DeSantis as "Ron DeSanctimonious" during a recent rally.