Conservatives are sending abstinence-only curriculum into classrooms at increasing rates, and a new study shows these programs are not only ineffective but unethical. Congress and the Trump administration are working to reverse the trends of more comprehensive sexual education, which had begun to improve during the Obama administration.
WHAT THE STUDY SHOWS
A report published in September's Journal of Adolescent Health (JAH) finds that sexual education programs promoting "abstinence only until marriage" (AOUM) fail on numerous levels based on scientific data. Researchers evaluated previous scientific research, reviewed articles on the subject, and data from human rights groups to reach their conclusions. This wealth of evidence starkly contrasts with the small number of studies that support abstinence-based education programs—long endorsed by conservative groups.
---
The JAH report focuses on several specific weaknesses in the AOUM education curriculum. First, the research indicates AOUM education fails to reduce rates of pregnancy and sexually transmitted infections (STIs).
"These programs simply do not prepare young people to avoid unwanted pregnancies or sexually transmitted diseases," according to co-author Dr. John Santelli, MPH, professor of Population and Family Health at the Mailman School of Public Health at Columbia University.
By teaching kids that abstinence is the only way to ensure avoiding STIs and pregnancy, experts warn we fail to provide them with critical knowledge.
Another co-author of the report, Laura Lindberg, says it's "not just unrealistic, but it leaves our young people without the information and skills that they need." A research scientist at the Guttmacher Institute—a reproductive health research group that supports abortion rights—Lindberg adds, "We fail our young people when we don't provide them with complete and medically accurate information." She also states that AOUM education "violates medical ethics and harms young people" because these programs fail to inform students about other methods to prevent pregnancy and STIs, and exaggerate the risk of contraceptive failure.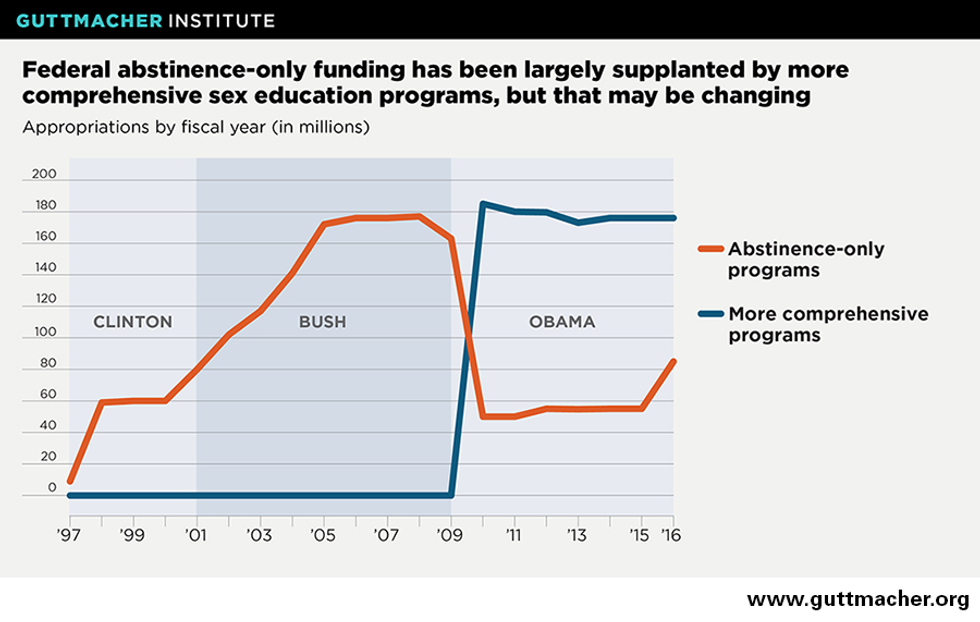 In fact, the report states: "programs that promote abstinence-only-until-marriage (AOUM) or sexual risk avoidance are scientifically and ethically problematic and—as such—have been widely rejected by medical and public health professionals."
It maintains that numerous international human rights treaties and other universally acknowledged documents "provide that all people have the right to 'seek, receive and impart information and ideas of all kinds,' including information about their health." The report further states that access to information about sexual health "is a basic human right and is essential to realizing the human right to the highest attainable standard of health."
According to the JAH report, another unethical element to the AOUM curriculum is the promotion of the idea that a heterosexual, monogamous marriage provides the only acceptable circumstances for sexual intercourse. In doing so, these programs may exclude or stigmatize numbers of youth by reinforcing harmful gender stereotypes.
Additionally, the report found the AOUM approach ineffective in delaying the onset of sexual intercourse because people within society are delaying marriage and, sometimes, declining to marry at all. In fact, the age of people getting married continues to rise, but the average age of first sexual experience has held steady at 17 to 18 since the 1990s. The result is a growing number of people having premarital sex.
By comparison, the report indicates comprehensive sexual education programs are effective in reducing early onset of sexual behavior, unprotected sex, STIs, pregnancy, and increased use of various forms of contraception. Ironically, the research indicates that comprehensive education is successful at promoting abstinence, while AOUM education fails in this regard.
EDUCATIONAL AND BEHAVIORAL TRENDS
Overall, since the mid-1990s, comprehensive sex education has taken a massive hit from the conservatives seeking to advance the AOUM agenda. Back in 1995, 87 percent of adolescent females and 81 percent of adolescent males received education about contraception methods. By 2011 to 2013, only 60 percent of young females and 55 percent of young males received such instruction. The percentage of schools with any sex education curriculum dropped from 67 to 48 percent between 2002 and 2014—with HIV prevention falling even further from 64 to 41 percent.
In 2010, Congress began an evidence-based approach to determine which sex education programs would receive federal funds, known at the Teen Pregnancy Prevention Program (TPPP). While a few abstinence-based programs made the list, based on some evidence of a reduction in sexual activity, a review of several studies showed no consistent evidence to support programs that taught AOUM, particularly when random controls were used. Instead, comprehensive programs positively affected a much wider range of behavior, including use of contraceptives, contracting STIs and the likelihood of becoming pregnant.
In fact, the teenage birth rate has declined 40 percent since the TPPP began. Many attribute this to the effective use of contraception, which significantly is omitted from the abstinence-only education.
CHANGES IN POLICY WITHIN THE TRUMP ADMINISTRATION
Given this history of scientific study, the latest educational and financial trends are effectively turning back the clock.During the past twenty years, the U.S. has spent $2 billion on AOUM education. During the Obama administration, funds for abstinence programs were reduced to support more comprehensive, evidence-based programs. Yet, under the current guidelines, states cannot use any of the $85 million in annual federal funds to talk about contraception, unless to emphasize their failure rates.
More specifically, President Trump's administration canceled 81 projects from the TPPP without consulting Congress, announcing grants will end two years early—in June 2018. Many of the $200 million cut for teen pregnancy prevention programs are proposed to be reallocated in the new budget to extend the "Abstinence Education and Personal Responsibility Education Program." Additionally, Trump named Valerie Huber, an abstinence-only education advocate, to serve at the Department of Health and Human Services.
Aimed to his conservative base, these policies reap praise from those who ignore the statistics about effectiveness. For instance, Ariana Arina Grossu, director of the Center for Human Dignity at the Family Research Council, told NPR that abstinence-based programs "provide the optimal message for teens." She likened the curriculum to "other public health models used to address underage drinking and drug use," which attempt to deter such conduct.
Instead, Lindberg likens sex to another risky, but legal behavior, for which society provides more comprehensive education about the dangers.
"We tell people not to drink and drive," she said. "We don't teach them not to drive. ... We would never withhold information about seat belts because they wouldn't know how to protect themselves."
While federal spending represents merely a fraction of the total amount spent on sexual education, including state and local funds, the federal standards for curriculum significantly impact decisions at all levels and send political messages about our national priorities.
Moreover, even before Trump took office, Congress had already reversed course from its enormous downturn in spending for AOUM programs during the Obama years—when it decreased funds from over $160 million to approximately $50 million per year between 2009 and 2010. During the same period, funding for more comprehensive programs increased from $0 to approximately $185 billion. Spending stayed largely even until the fiscal year 2016, when funding for AOUM programs took a sharp spike, from $55 to $85 million.
Congress's 2010 decision to rely on evidence-based theory had demonstrated a shift in policy—a decision to rely on outcomes rather than what goes into the curriculum. Even for those whose goal is teenage abstinence, science dictates AOUM curriculum should make way for more comprehensive-based sex education. The latter programs have been more successful at preventing teenage pregnancy and STIs, and helping adolescents make responsible choices about sexual behavior.
As the Trump administration attempts to govern over the passage of its first budget, social conservatives will likely continue to apply pressure for further cuts to comprehensive sex education plans, opting instead for more AOUM education and "sexual risk avoidance" curriculum.
Santelli said, "Adolescent sexual and reproductive health promotion should be based on scientific evidence and understanding, public health principles, and human rights." He added, "Abstinence-only-until marriage as a basis for health policy and programs should be abandoned."