Florida Republican Governor Ron DeSantis left people outraged after sending a political mailer to Florida households leveraging anti-LGBTQ+ bigotry by mocking a nonbinary student to criticize student loan forgiveness.
The mailer uses a stock image of a nonbinary student wearing both makeup and facial hair at a graduation ceremony and takes digs at Democratic President Joe Biden and DeSantis' Democratic opponent for Governor Charlie Crist over student debt cancellation.
DeSantis' use of anti-LGBTQ+ bigotry and toxic masculinity to attack political enemies for totally unrelated issues angered many.
See the mailer below.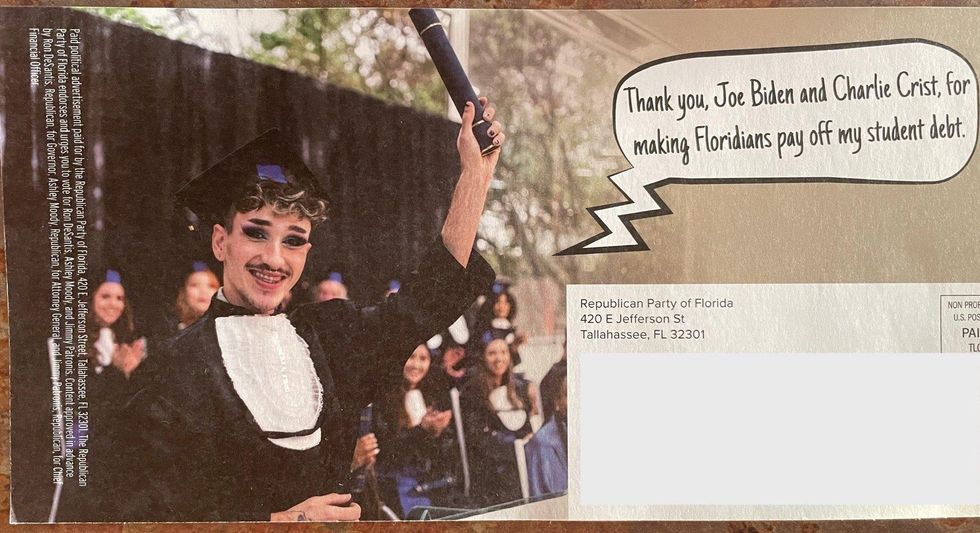 Republican Party of Florida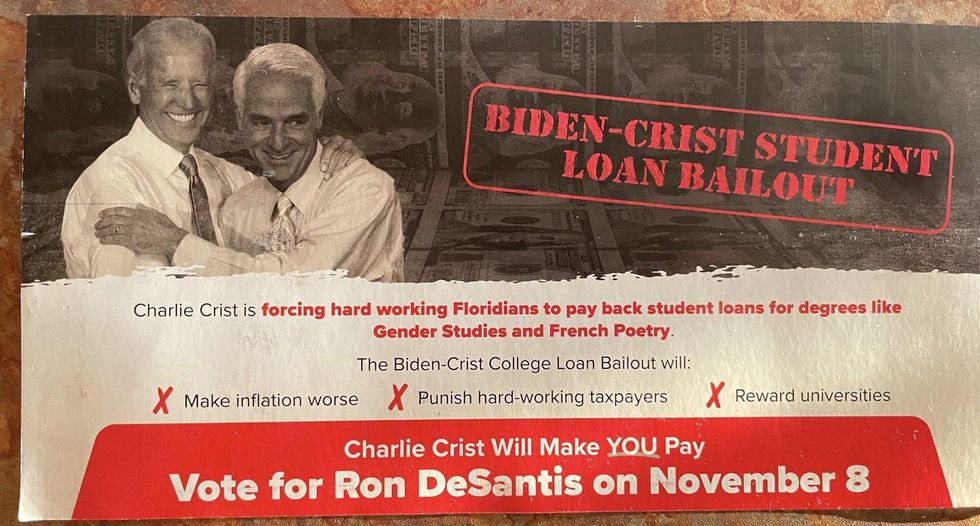 Republican Party of Florida
Along with the photo of the nonbinary student, the mailer's front reads:

"Thank you, Joe Biden and Charlie Crist, for making Floridians pay off my student debt."
Biden was lauded by most Americans for his student debt relief, but it incensed Republican leadership who seem to believe nobody in their constituency has college debt.
The reverse side of DeSantis' mailer is even more absurd.
Along with a photo of Biden and Crist embracing—which many viewed as an attack on their masculinity—the mailer claims:
"Charlie Crist is forcing hard working Floridians to pay back student loans for degrees like Gender Studies and French Poetry."
There is no truth to this whatsoever, given the student loan forgiveness program was an executive order by the President, and Charlie Crist is not the President, nor is he even in office of any kind anymore.
But you know... details or facts aren't helpful when all you have is manufactured issues to present to voters.
DeSantis' mailer also claimed:
"The Biden-Crist College Loan Bailout will: Make inflation worse; Punish hard-working taxpayers; Reward universities."
DeSantis of course does not explain how canceling student debt will do these things on his mailer, mainly because it won't according to economists.
DeSantis has made homophobia, transphobia and toxic masculinity a cornerstone of his political persona. He led a host of legislative attacks on LGBTQ+ people in Florida, most notably the "Don't Say Gay" law and legislation attacking transgender children in school sports.

On Twitter, DeSantis' virulent bigotry and farcical caricature of college students left many people astonished.
The outrage over DeSantis' latest display of bigotry seems to be falling on deaf ears in Florida.
DeSantis is leading Crist in the polls by double digits.