Ron DeSantis' newest campaign ad is drawing extreme ire—even from within his own party.
Former Republican National Committee chair Michael Steele called DeSantis' ad "a**-backward blasphemy" and it's not hard to see why.
In the ad, over a background of various black and white photos of DeSantis on-stage or posing with Floridians, a voice with an added echo effect to make it seem more God-like said:
"And on the eighth day, God looked down on his planned paradise and said 'I need a protector' so God made a fighter."
"God said 'I need somebody willing to get up before dawn, kiss his family goodbye, travel thousands of miles for no other reason than to serve the people. To save their jobs, their livelihoods, their liberty, their happiness.' So God made a fighter."
"God said 'I need someone to be strong, advocate truth in the midst of hysteria. Someone who challenges conventional wisdom and isn't afraid to defend what he knows to be right and just.' So God made a fighter."
"God said 'I need somebody who'll take the arrow, stand firm in the wake of unrelenting attacks, look a mother in the eyes and tell her that her child will be in school. She can keep her job, go to church, eat dinner with friends, and hold the hand of an aging parent taking their breath for the last time.' So God made a fighter."
"God said 'I need a family man. A man who would laugh, and then sigh, and then reply with smiling eyes when his daughter said she wants to spend her life doing what dad does. So God made a fighter."
It's really not hard to see why Steele said the ad is blasphemous, since it insinuates God apparently took a full day and made DeSantis personally as part of the creation of the universe—during the same time as the creation of the sun, planets and all of the other life on Earth.
You can see the controversial ad here shared by the governor's wife:
During MSNBC's The Sunday Show this week, Steele called the ad "insulting."
Host Johnathan Capeheart played 11 seconds of the ad for the guests, including Steele, and as soon as Steele realized what was about to be shown he said "oh, no" and shook his head.
"It is some of the most a**-backwards blasphemy I've ever heard in my life. It is one of the dumbest political ads you could ever make."
Steele was critical of Casey DeSantis being the one who shared the ad as well.
"And to [...] have it go out under your spouse's name, it's insulting."
He continued:
"But it tells you what this white Christian nationalism is all about. That's what [the political ad] appeals to. It's not an appeal to church-going folks on a Sunday, people who actually read the Bible—'On the eighth day'? Really? Church much? I mean seriously: 'On the eighth day'?"
"What the hell are you talking about? Oh, God needs someone who's going to go out and challenge the status quo? You ever hear of a man named Jesus?"
He finished:
"I don't need Ron DeSantis to be Christ. I just need him to be governor, and that's the problem. These idiots mesh it all together, and think they are one and the same."
]You can watch the MSNBC segment below
MSNBC The Sunday Showyoutu.be
Steele was definitely not the only one who vehemently disagreed with the ad.
Twitter users were equally incredulous.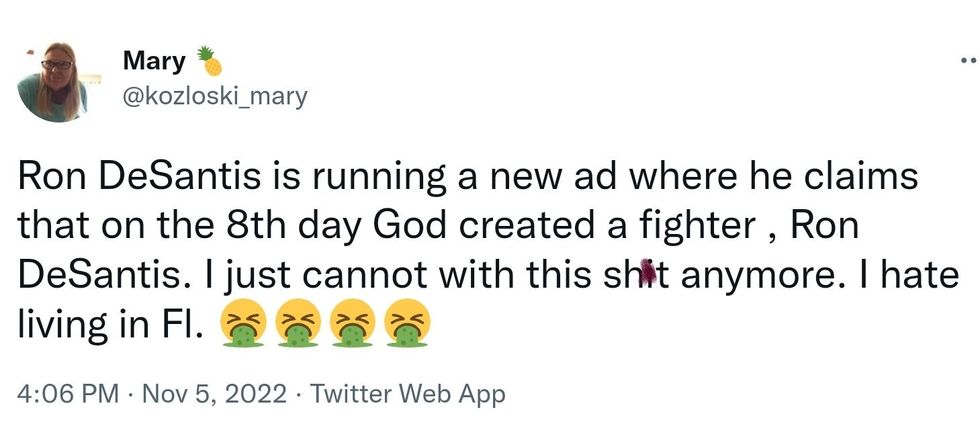 @kozloski_mary/Twitter
We will find out soon if the ad served it's intended purpose and riled up DeSantis' base, or if it instead alienated voters who may have been intending to vote for DeSantis.
Polls in Florida close tomorrow at 7pm EST.