Debbie Reynolds, who rose to prominence as wide-eyed starlet Kathy Selden in 1952's Singin' in the Rain and whose career took her from Hollywood to Broadway and the cabaret stage, died at Cedars-Sinai Medical Center, Los Angeles, after reportedly suffering a stroke at her son's home. She was 84. Reynolds was hospitalized only a day after the death of her daughter, actress and author Carrie Fisher of Star Wars fame. Fisher suffered a heart attack near the end of a transatlantic flight from London to Los Angeles on December 23 and was treated at a nearby hospital, where she later died.
Born Mary Frances Reynolds in 1932, Reynolds won the Miss Burbank beauty contest while still a high school student and soon after landed a contract with Warner Brothers, where she acquired her new name. She first garnered attention in a memorable role as the singer Helen Kane in the 1950 musical biopic, Three Little Words. She scored a top-three hit with the song "Aba Daba Honeymoon," a duet with Carleton Carpenter, the following year.
---
But Reynolds would attain screen immortality after actor and choreographer Gene Kelly and director Stanley Donen cast her in the role of Kathy Selden in Singin' in the Rain, which solidified her status as "America's Sweetheart." Thereafter, Reynolds' star continued to rise with acclaimed turns in musicals like I Love Melvin and in more dramatic fare like The Catered Affair, alongside Bette Davis. She found greater success with her recording of the song "Tammy" from 1957's Tammy and the Bachelor. After securing a contract with Dot Records, she launched a career on the Las Vegas cabaret circuit.
Debbie Reynolds (center) with Donald O'Connor (left) and Gene Kelly (right) in 1952's Singin' in the Rain. (Credit: Source.)
Reynolds' winning streak continued the following decade with strong parts in 1962's How the West Was Won, and her headlining role as The Unsinkable Molly Brown garnered a nomination for the Academy Award for Best Actress. After stepping back from films, she found a new audience on television on The Debbie Reynolds Show between 1969 and 1970. The cult thriller What's the Matter with Helen? followed, but she would win the hearts and minds of children around the nation as the voice of Charlotte, a spider who dedicates her life to saving a pig from slaughter, in the animated Charlotte's Web. In later years, she dabbled in voice work and experienced a career resurgence with a Golden-Globe nominated role as the eponymous Mother, a comedic turn in In and Out, as Agatha Cromwell in the popular Halloweentown series for Disney, and an Emmy-nominated turn on Will and Grace as Grace Adler's overbearing mother, Bobbi, whose rousing rendition of "Good Morning" was a sly wink to fans of Reynolds' most famous film role.
Reynolds established a second career as a shrewd businesswoman in later years, opening a dance studio in North Hollywood in the 1970s and amassing a large collection of movie memorabilia, beginning with the 1970 Metro-Goldwyn-Mayer auction and later displaying the items in a museum close to the Kodak Theater in Los Angeles. Reynolds planned to relocate the collection to the resort town of Pigeon Forge, Tennessee, but was forced to auction off the entire collection after the developer went bankrupt. The museum filed for Chapter 11 bankruptcy in 2009. The collection contained some of Hollywood's most iconic movie props and mementos, including Charlie Chaplin's bowler hat and the white "subway dress" Marilyn Monroe wore during a memorable scene in 1955's The Seven Year Itch.
Reynolds married three times––each of these marriages was rocky and often garnered headlines––but her first marriage, to crooner Eddie Fisher, with whom she had her two children, Carrie and Todd, became mired in scandal after Fisher embarked on a very public affair with Reynolds' friend, actress Elizabeth Taylor, whose husband, Michael Todd, had recently died in a plane crash. The affair and Reynolds and Fisher's subsequent divorce made the trio the subject of considerable tabloid gossip, though Reynolds and Taylor reconciled in later years, even working together in 2001's These Old Broads. Fisher's daughter with actress Connie Stevens, Joely Fisher, tweeted a message shortly after Reynolds was hospitalized.
[embed]
God speed mama https://t.co/XsO5zqN8w6

— Joely Fisher (@Joely Fisher) 1482965416.0
[/embed]
Reynolds often had a rocky relationship with her daughter, Carrie, who memorialized their often fraught bond in her 1987 autobiographical novel, Postcards from the Edge. In the 1990 film adaptation, Meryl Streep plays a drug addicted Carrie Fisher stand-in who returns to her mother's home after a stint in rehab. Fisher often said that being the daughter of two famous parents was not easy: During a joint 2011 appearance with her mother on The Oprah Winfrey Show, Fisher said, "The family is organized [around] the parents, [whereas] normally the family is organized around raising the child." Fisher's drug use would later spiral into regular abuse of cocaine and heroin. As Reynolds herself recalled, Fisher "collapsed on set" and had to be rushed to the hospital––and later, her first stint in rehab.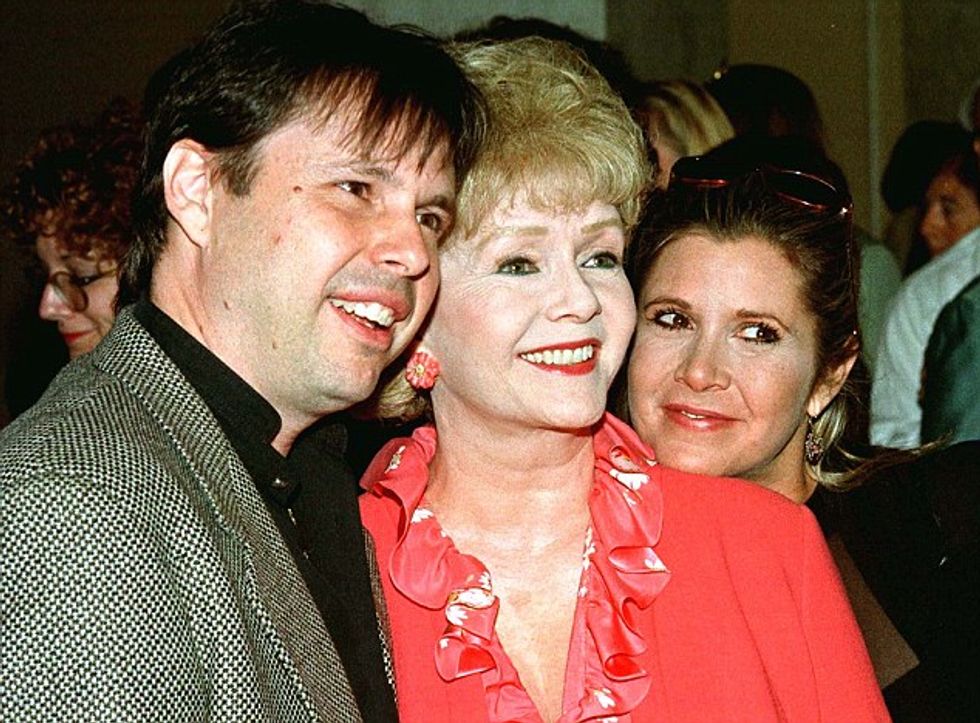 Reynolds (center) with her son, filmmaker Todd Fisher, and daughter, actress Carrie Fisher. (Credit: Source.)
"First of all, it was a terrifying night," she said. "It was just pouring rain, so you can picture you're in the car with the rain smashing against the windshield and you're crying like mad and you don't know if your daughter is going to be alive when you get there... There have been a few times when I thought I was going to lose Carrie. I've had to walk through a lot of my tears. but she's worth it."