MLB Network will announce the winners of the Cy Young Awards 2017 at 6:00pm Eastern. Will Corey Kluber's league-leading 2.25 ERA earn him the AL award, or will he get beaten out Chris Sale's 308-strikeout season? Will Max Scherzer take home his second consecutive NL Cy Young, or will Clayton Kershaw come out on top and add a fourth Cy Young award to his collection? You can be the first among your friends to know by watching the announcement live!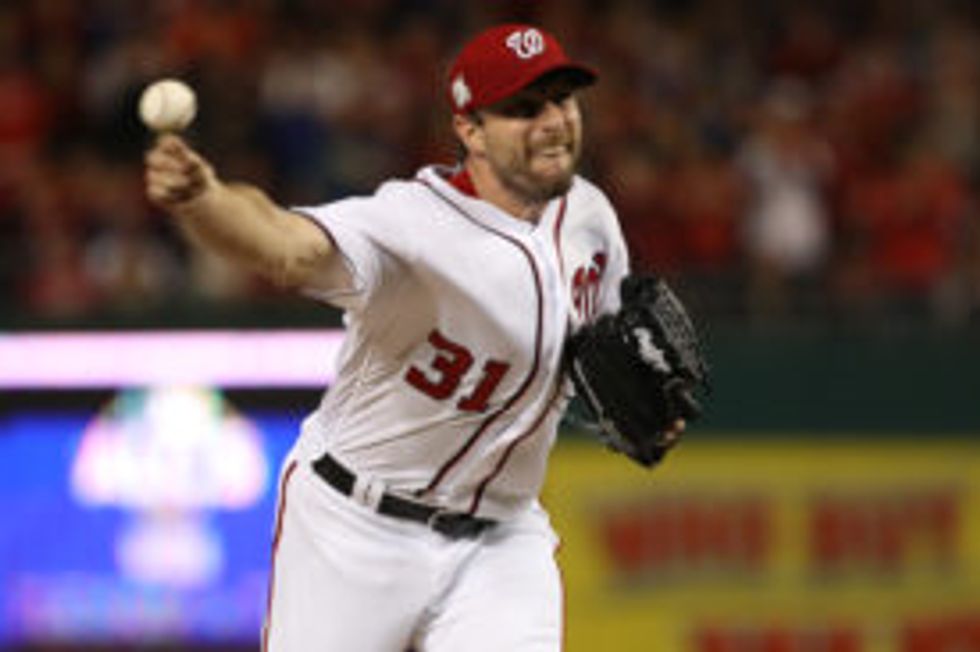 WASHINGTON, DC - OCTOBER 12: Max Scherzer delivers a pitch against the Chicago Cubs (Win McNamee/Getty Images)
---
MLB Network will air the awards show beginning at 6:00pm ET. Not a subscriber to MLB Network? Don't worry; we've found a way for you to live stream the ceremony for free on your laptop computer. You may have to wait a bit as it loads, and you'll have to endure a bit of spam. But hey, at least you won't have to pay for it. Follow these instructions below.
Step One: Update Your Flash Player
Be absolutely sure to update your flash player before going to the site. Often, live stream sites like the one in the link at the bottom of this post will have pop-ups asking you to update your flash player. Sometimes these links will lead you to fake download sites that can trick you into downloading spyware or viruses. You'll avoid any confusion about whether you're getting the right software if you go directly through Adobe flash player,
You can download the real software from this link to Adobe's official site.
Step Two: Follow the Hyperlink Below
Once your flash player is updated, it's safe to head to the live stream site. This website streams MLB Network live 24 hours a day, so you'll be able to watch as the winners of the 2017 MLB Cy Young Awards are revealed! The stream window may take up to 30 seconds to load, but begins to play automatically upon reaching the site. You'll see a few unpleasant ads and some clickbait links; you'll probably want to avoid any temptation to follow those.