[DIGEST: CNN, NBC, Business Insider, Defense News, USA Today, ABC News, BBC]
In 2015, the U.S. military budget was around $601 billion, greater than the combined military budgets of the six highest spending nations. Though it is difficult to pinpoint where the money was spent, the following incidents show where some of that money was squandered. Here's hoping for wiser military investments in 2016.
---
$43 Million Gas Station

The compressed natural gas station in Afghanistan that cost $43 million. (U.S. government) Credit: Source
Though building a refueling station in a war zone is undoubtedly a necessary and potentially expensive endeavor, the $43 million spent on a gas station in Afghanistan was enough to raise eyebrows. A comparable project in Pakistan cost $500,000. The Special Inspector General for Afghan Reconstruction found the endeavor was originally contracted to spend $3 million, but ultimately spent $12 million in construction costs and over $30 million in "overhead" costs.
Investigators were troubled that the Defense Department was "unable to provide an explanation for the high cost of the project or to answer any other questions concerning its planning, implementation, or outcome." The Pentagon's task force that oversaw this project was canceled earlier this year, but questions about this boondoggle remain unanswered.
Half A Billion Dollars For A Handful of Men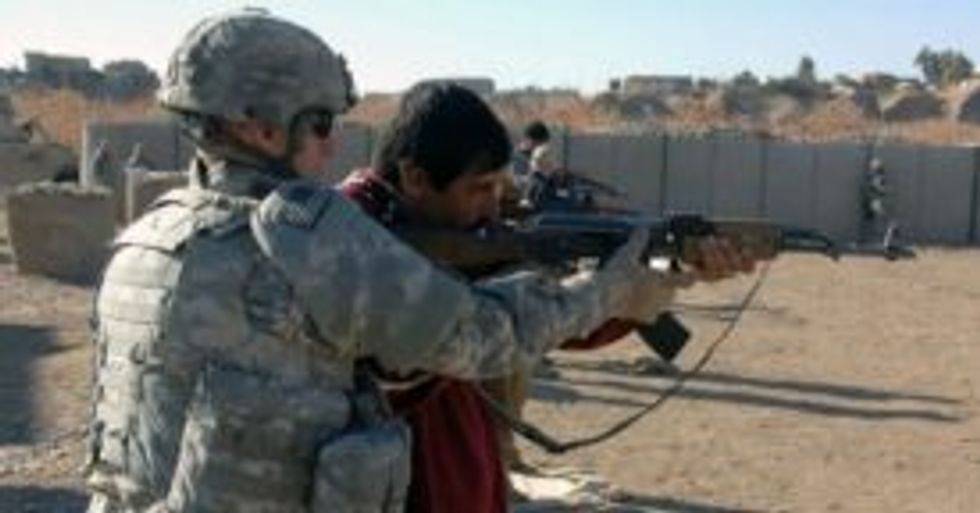 Credit: Source.
The Obama Administration invested $500 million to train rebel Syrian forces, with the goal of yielding 5,000 organized and able fighters. Instead, four or five dedicated soldiers have been trained. A top commander in the U.S. war on ISIS testified that the graduating class was "smaller than expected."
The program has since been suspended. Focus has been shifted towards supplying military aid to groups already fighting ISIS rather than training rebels.
To read more, continue to the next page.
Rogue Blimp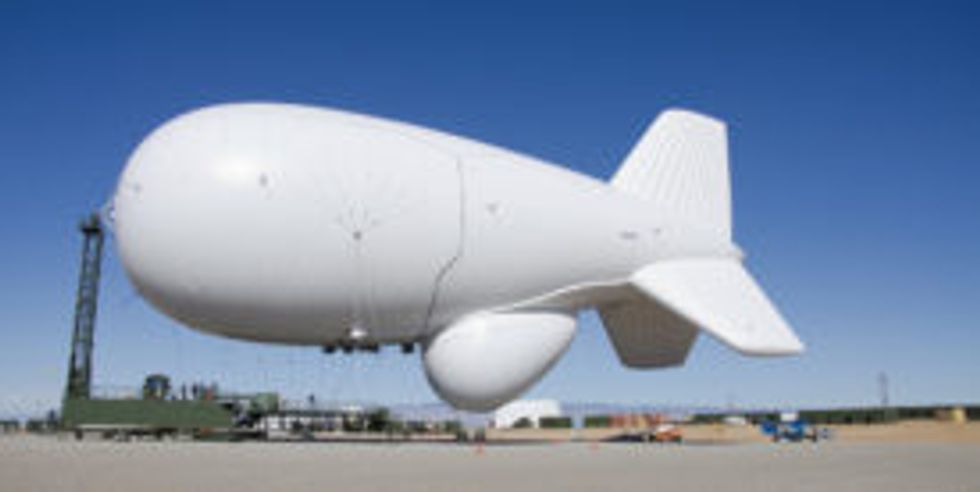 Credit: Source.
A giant, radar-carrying blimp that was part of a defense system at the Aberdeen Proving Ground in Maryland got loose on October 28 and flew 130 miles into eastern Pennsylvania. The blimp was anchored to the ground by a complex tether. Officials were unable to explain how the aircraft broke free.
The blimp's heavy tether dragged for 20 miles, causing 35,000 people to lose electricity and threatening public safety. It finally crashed in a wooded area in northeast Pennsylvania. Officials deflated the downed blimp, which still carried a potentially dangerous amount of helium gas. Whether or not the blimp would remain functional was not immediately apparent.
Upside Down In The Air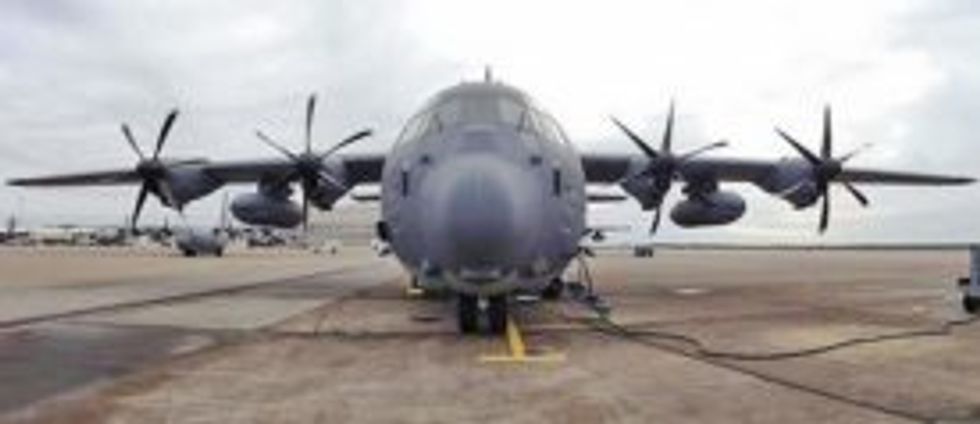 Credit: Source.
The $115 million AC-130J Ghostrider aircraft was built as "the ultimate battle plane." During an April test flight, however, pilots lost control and couldn't avoid flipping the plane. The gunship was rendered useless due to stress on its frame that weakened its structure. Investigators cited the pilot's "excessive rudder input during the test point, followed by inadequate rudder input to initiate a timely recovery from high angle of sideslip due to over-controlled/under-controlled aircraft and wrong choice of action during an operation." The plane landed safely and no one was injured, but the aircraft will never fly again.
To read more, continue to the next page.
Explosive Error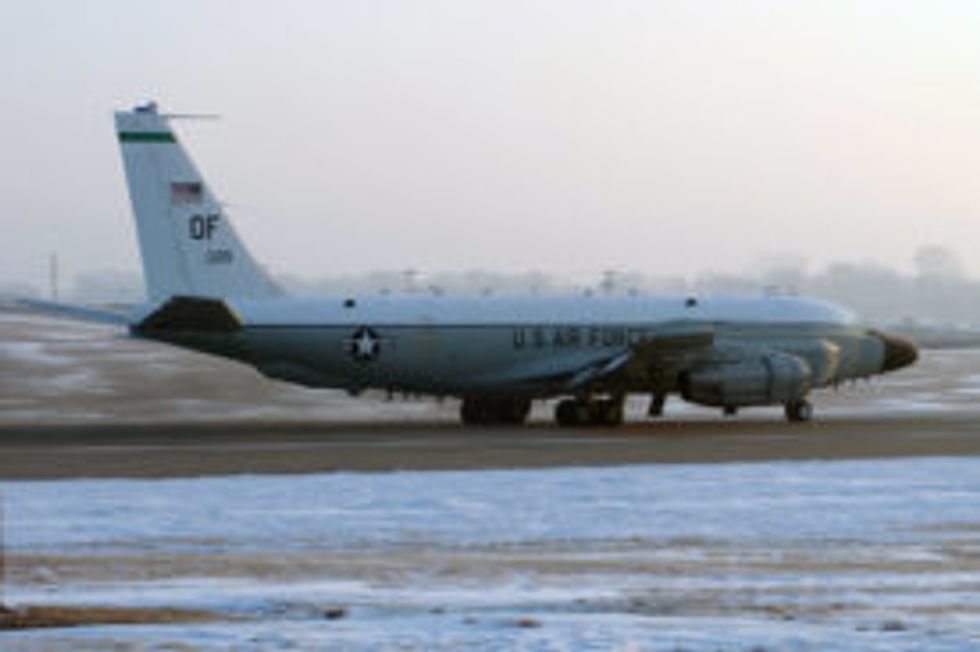 Credit: Source
A loose nut caused a fire aboard an Air Force jet, resulting in $62.4 million in damages. U.S. Air Force investigators blamed the accident on a private defense contractor: "Failure by L-3 Communications depot maintenance personnel to tighten a retaining nut connecting a metal oxygen tube to a junction fitting above the galley properly caused an oxygen leak. This leak created a highly flammable oxygen-rich environment that ignited."
The jet had reached about 51 mph on the Nebraska runway when the pilot aborted takeoff and the vessel skidded to a stop. If the plane had taken off, the ensuing crash could have been fatal. As it was, all 27 crew members exited safely.
A Melting Training Center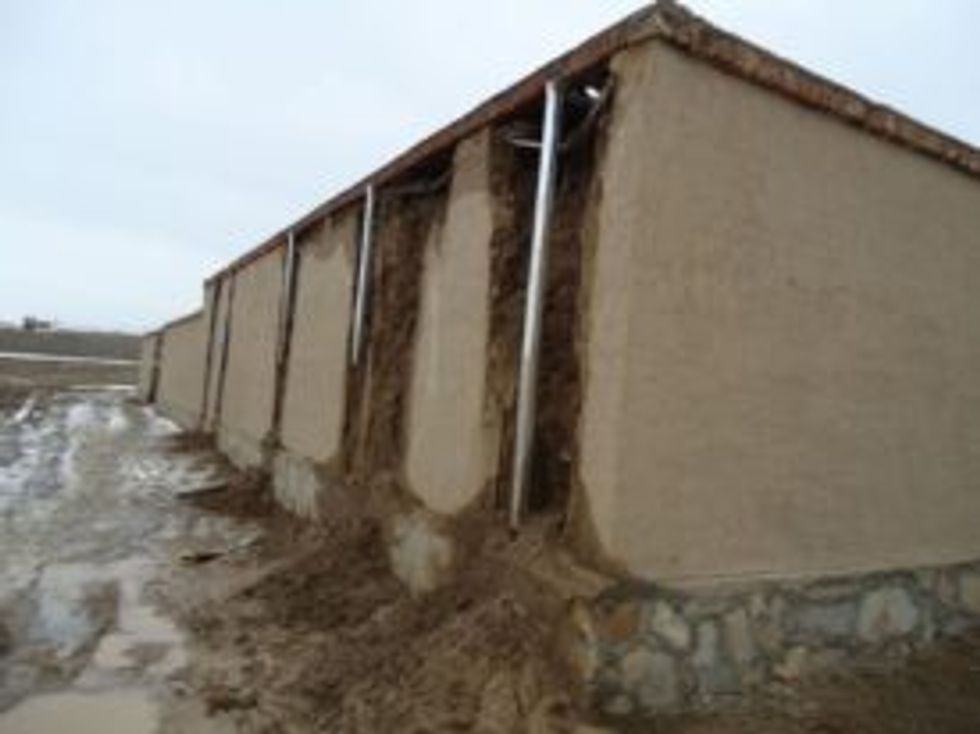 Credit: Source
The U.S. spent $500,000 on a police training center in Afghanistan, but just four months after construction was completed, the complex began to disintegrate. The center was built to replicate a typical Afghan village, and was intended to simulate police searches and other training operations. But U.S. Central Command contracting commanders failed to oversee the project, allowing the Afghan contractor to use substandard materials and shoddy construction.
Problems included the substitution of sand bricks that were too small for the contracted clay bricks, as well as support beams that weren't securely attached to the frame. The deficiencies allowed water into the structure, causing it to fall apart.  
To read more, continue to the next page.
Anthrax Oopsie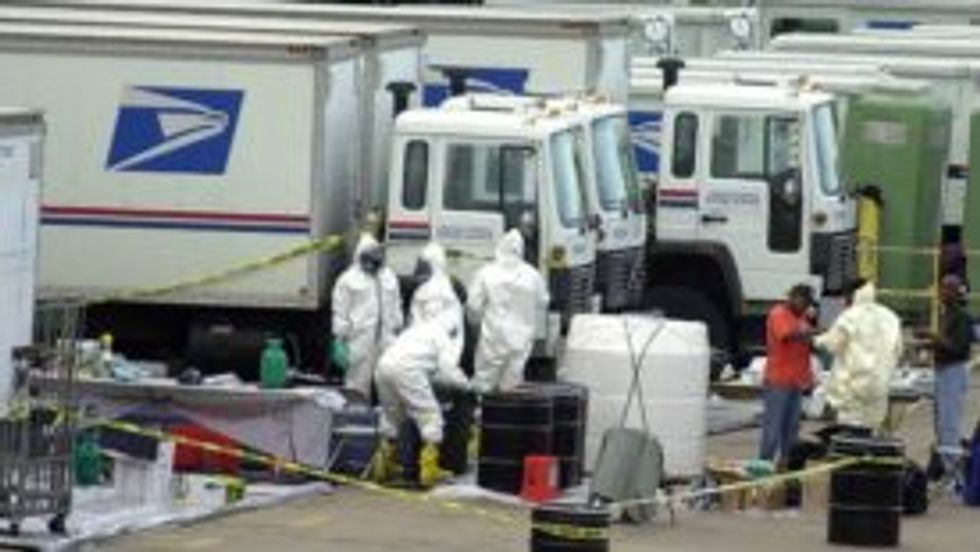 Credit: Source
A U.S. Army facility in Utah sent potentially live anthrax spores to 51 labs in all 50 states, as well as the UK, Australia, South Korea and Canada. The samples, which were assumed to be inactive, were part of a Defense Department program to help researchers develop a field-based test to identify biological threats in the environment. Scientists at the Utah lab thought they were sending inactive samples, but 52 labs in eighteen states and three countries received live anthrax samples.
No one was harmed, with the exception of the director of the Division of Select Agents and Toxins of the Centers for Disease Control and Prevention, who lost his job as a result of the error.  
The number of labs working with hazardous materials like anthrax grew substantially in 2001 after a number of anthrax-laced letters were mailed through the post office to lawmakers and media outlets. Since then, the CDC has invested over $9 billion in state and local health agencies to combat fears of additional outbreaks.
Expensive Delays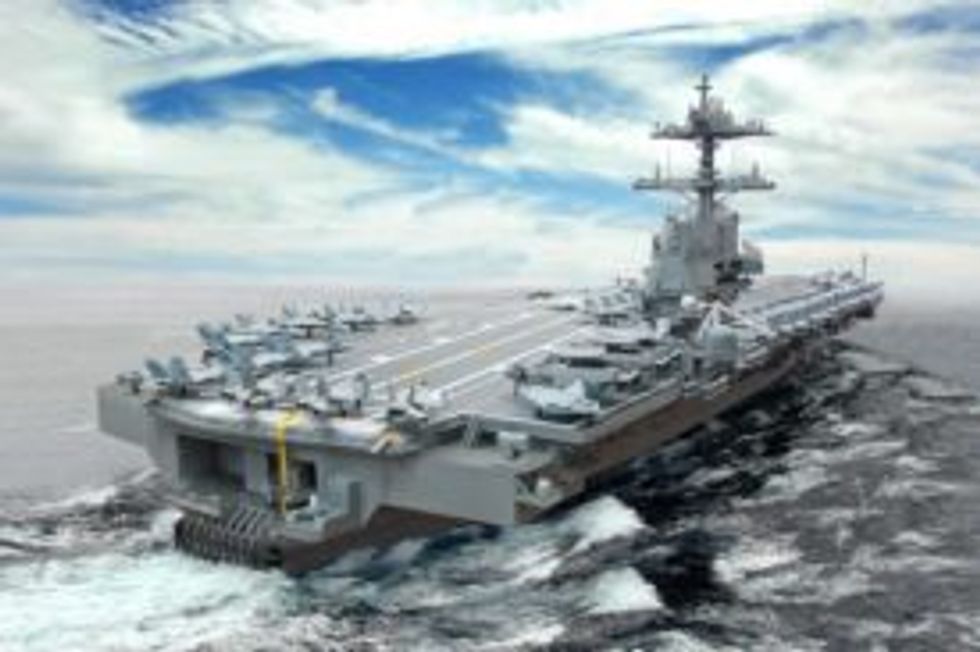 Credit: Source
The U.S. Navy's newest aircraft carrier, the USS Gerald R. Ford, is the first of a new generation of supercarriers. The CVN 78 was designed to launch a third more sorties a day than today's carriers, with 25% fewer sailors on board. But when Congress approved the $10.5 billion estimate in 2007, the ship's plans included technologies that weren't yet fully developed.
Delays and other problems are blamed for the $2.4 billion cost overruns, a 23% increase over its original budget. The Ford was more than 90% complete in October, and is expected to be delivered to the Navy this year.
To read more, continue to the next page.
An Atlantic Breakdown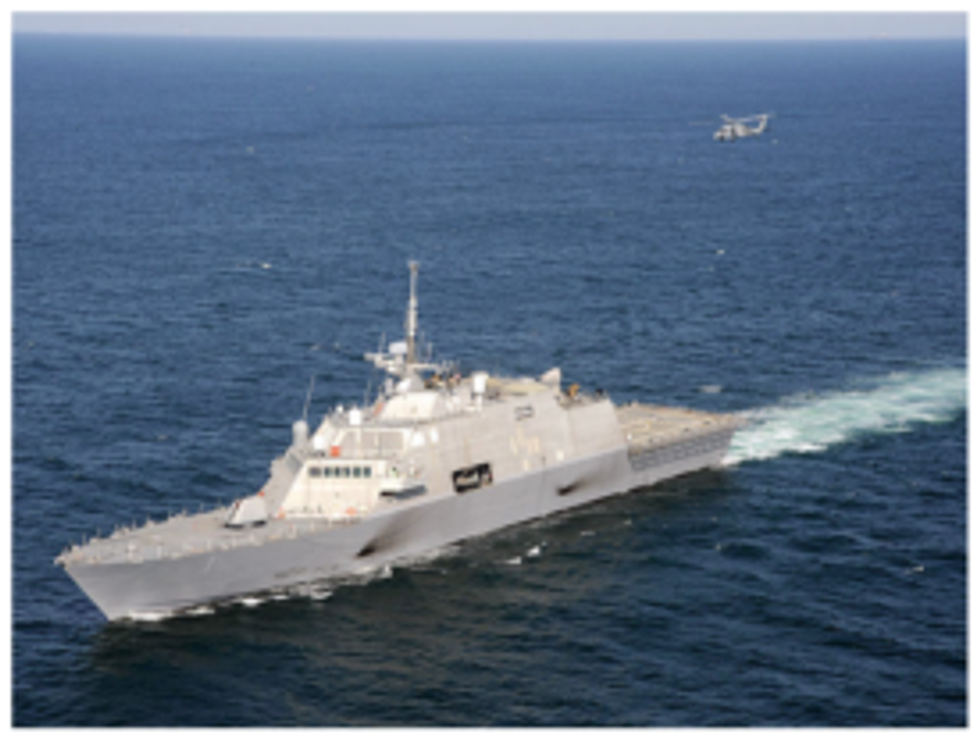 Credit: Source.
The $362 million USS Milwaukee, an advanced littoral combat ship, was a month into its trip from the Great Lakes to San Diego when it broke down.
According to the Navy Times, the ship was passing Halifax, Canada, when it suffered an "engineering casualty." This "casualty" is still being investigated, but initial evidence shows "fine metal debris in the lube oil filter."
The cost of the breakdown is unclear. Reports say diagnostic tests are still underway.