Maine GOP Senator Susan Collins—desperate to save face and halt plummeting approval numbers—attempted to justify voting as directed by Senate Majority Leader Mitch McConnell to acquit in the presidential impeachment trial.
But apparently President Donald Trump never got the memo.
On Tuesday, Trump was asked about Collins' claim that she could vote to acquit because the President learned his lesson about not abusing presidential powers for personal gain and obstructing justice. But rather than back Collins' excuse for her vote, Trump obliterated it.
At a meal with media members before the State of the Union, Trump replied to a question about Collins by stating there was no lesson to learn since his call to coerce a foreign leader was "perfect." The President also reiterated he did "nothing wrong."
As a result, Collins tried to backpedal when speaking with WGME News of Portland, Maine.
Collins asked her constituents in Maine to replace the word believe with the word hope when she said:
"I believe that the President has learned from this case. The President has been impeached. That's a pretty big lesson. I believe that he will be much more cautious in the future."
But people were quick to point out that hoping someone would not commit more crimes as justification for letting them get away with prior crimes was an even worse reason to acquit.
Her revised excuse for her vote to acquit got even worse pushback than her original one.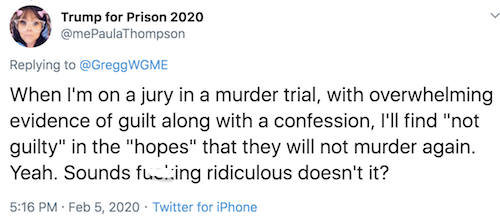 @GreggWGME/Twitter
Collins is up for reelection in 2020.
That fact and her falling poll numbers seem to be driving her public statements, but not her actions.
There are 35 Senate seats being decided in 2020. 23 of those seats are currently held by the GOP, but three of those incumbent Republican Senators will retire instead of seeking reelection.

Democrats need gain just 3-4 seats to take control of the Senate.
The GOP needs to win every incumbent Senate reelection race to maintain control of the Senate. But Collins is not doing well with Maineiacs where she's judged against truly moderate Republican Senators like Olympia Snowe, Jock McKernan, Bill Cohen and the legendary Margaret Chase Smith. Collins is polling behind the Democratic frontrunner, Maine House Speaker Sara Gideon. Who will face Collins in November will be decided in Maine's June Senate primary.
As of Wednesday February 5, the 2020 election is 271 days away.
In addition to Susan Collins, the following Republican Senators will fight to keep their seats in November:
Dan Sullivan (AK), Tom Cotton (AR), Martha McSally (AZ), Cory Gardner (CO), Kelly Loeffler (GA), David Perdue (GA), Joni Ernst (IA), James Risch (ID), Mitch McConnell (KY), Bill Cassidy (LA), Cindy Hyde-Smith (MI), Steve Daines (MT), Thom Tillis (NC), Ben Sasse (NE), Jim Inhofe (OK), Lindsey Graham (SC), Mike Rounds (SD), John Cornyn (TX) and Shelley Moore Capito (WV).
Are you registered to vote?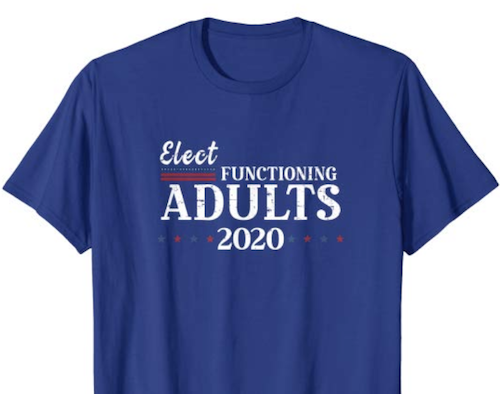 Amazon