On October 19, 2020, Republican President Donald Trump's Attorney General Bill Barr appointed special counsel John Durham. The action was taken just days before the 2020 presidential election that Trump lost to Democratic candidate Joe Biden.
The move was widely seen as a desperate attempt to try to find something to discredit the FBI and the 2016 presidential campaign of Democrat Hillary Clinton—who also defeated Trump in the popular vote in 2016, but unlike Biden lost the electoral vote.
Whether the Trump camp thought the move would gain their candidate needed votes or it was a last petty act of an administration that knew they'd lose in November is unclear.
One of the results of the special counsel appointment was the indictment of cybersecurities lawyer Michael Sussmann on a charge he lied to the FBI in 2016. Sussmann briefed the FBI on a secret computer communications channel between the Trump Organization and Russia-based Alfa Bank.
The FBI investigated Sussmann's data but concluded there was nothing illegal to act on.
Durham claimed Sussmann lied when he told the FBI he wasn't acting on behalf of any client when he reported the irregularities. But on Tuesday, May 31, 2022, a Washington DC jury disagreed and acquitted Sussmann.
As reported by The Washington Post, the jury forewoman stated:
"Politics were not a factor. We felt really comfortable being able to share what we thought. We had concise notes, and we were able to address the questions together."
"Personally, I don't think it should have been prosecuted—[the government] could have spent our time more wisely."
Another juror said:
"...everyone pretty much saw it the same way."
While politics may not have been a factor for the jury, conservatives crying foul after years of trying to prosecute Hillary Clinton or anyone remotely associated with her claimed Durham's failure was completely political.
Meanwhile legal experts sided with the jury, stating the indictment was a stretch with little or no merit.
The Trump camp vehemently disagreed.
Various Trump mouthpieces sounded off on Twitter—where the former President remains banned for his role in the January 6 insurrection and Capitol riot which left five people dead, over 100 injuries to law enforcement and several million dollars in damages.
Donald Trump Jr. tweeted a video with a caption claiming Durham failed to prove his case because jurors were "Clinton donors."
Fox News claimed because Trump only garnered a paltry 5.4% of the vote in Washington DC in the 2020 presidential election, no jury from that city would convict Sussmann.
Trump himself took to his own struggling social media site—Twitter clone Truth Social—to complain.
The Trump camp posted:
"Our legal system is CORRUPT, our Judges (and Justices!) are highly partisan, compromised or just plain scared, our Borders are OPEN, our Elections are Rigged, Inflation is RAMPANT, gas prices and food costs are 'through the roof,' our Military 'Leadership' is woke, our Country is going to HELL, and Michael Sussmann is not guilty."
"How's everything else doing?"
"Enjoy your day!!!"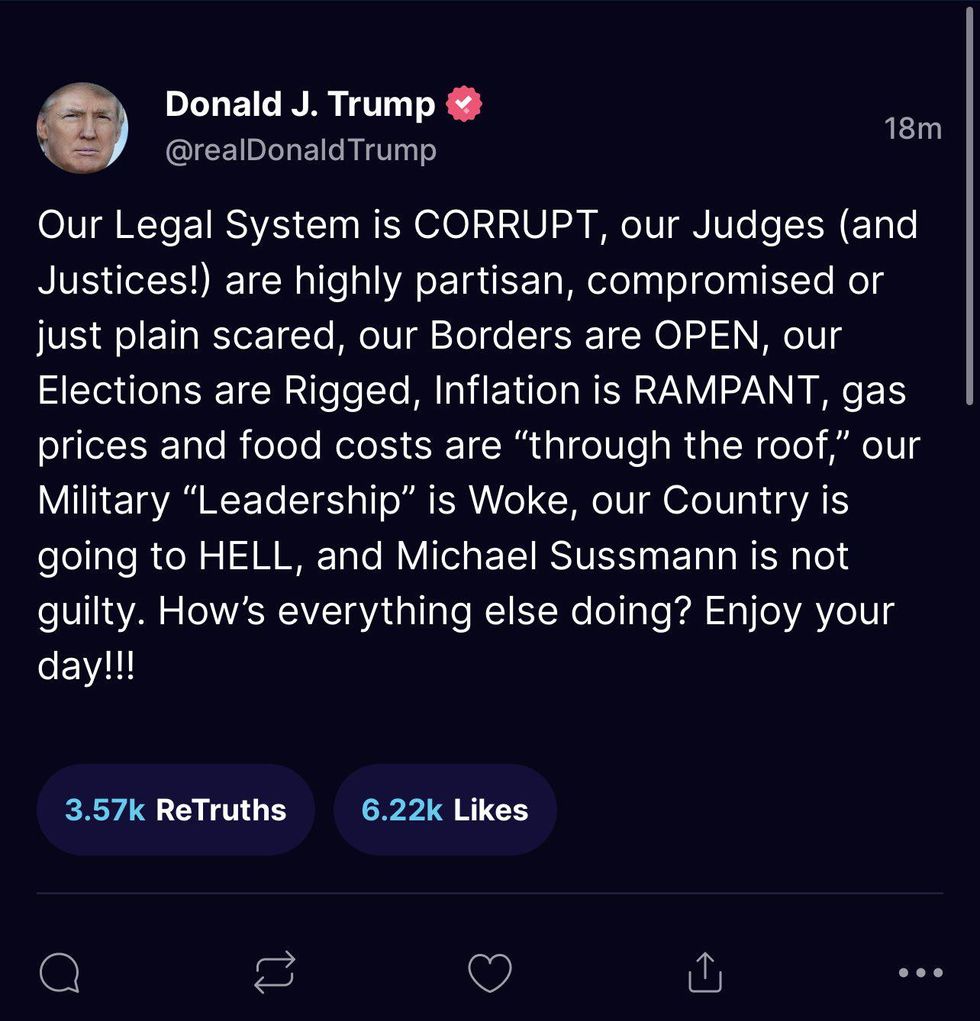 Donald J Trump/Truth Social
Despite their claims Obama appointed judges and any jurors who vote Democrat should never serve on a jury where the Trumps have a stake in the outcome, the Trump camp found little sympathy online outside their most ardent MAGA minions.

Durham himself was less vitriolic in his response to the verdict.

An official statement said:
"While we are disappointed in the outcome, we respect the jury's decision and thank them for their service."
"I also want to recognize and thank the investigators and the prosecution team for their dedicated efforts in seeking truth and justice in this case."