After a Jimmy Kimmel monologue Tuesday night criticizing the latest GOP attempt to dismantle the Affordable Care Act (Obamacare), Senator Bill Cassidy appeared on CNN's New Day Wednesday to respond.He told host Chris Cuomo, "I'm sorry [Kimmel] does not understand."
Fox and Friends host Brian Kilmeade also felt compelled to take Kimmel to task Wednesday morning, referring to him as a Hollywood elite pushing his politics on this country. Bill cosponsor Senator Lindsay Graham chose to respond like President Trump did on Twitter.
---
Claims that #GrahamCassidy-Heller-Johnson doesn't cover pre-existing conditions -- #FakeNews on steroids! https://t.co/pRHcaG2KNz

— Lindsey Graham (@Lindsey Graham) 1505957039.0
Wednesday night, Kimmel clapped back.
"Oh, I get it. I don't understand because I'm a talk-show host, right? Well then, help me out. Which part don't I understand? Is it the part where you cut $243 billion from federal health-care assistance? Am I not understanding the part where states would be allowed to let insurance companies price you out of coverage for having pre-existing conditions? Maybe I'm not understanding the part of your bill in which federal funding disappears completely after 2026? Or maybe it was the part where the plans are no longer required to pay for essential health benefits, like maternity care or pediatric visits?"
"Or the part where the American Medical Association, The American College of Physicians, The American Academy of Pediatrics, The American Hospital Association, The American Cancer Society, The American Diabetes Association, The American Heart Association, Lung Association, Arthritis Foundation, Cystic Fibrosis, ALS, The National Multiple Sclerosis Society, and The March of Dimes, among many others, all vehemently oppose your bill?" he continued.
Which part of that am I not understanding? Or could it be, Senator Cassidy, that the problem is that I do understand, and that you got caught with your G-O-Penis out? Is that possible? Because it feels like it is."
Kimmel went on to thank the many people who provided their own healthcare nightmares in support for his call for affordable guaranteed healthcare for all Americans, belying Kilmeade's claim it was Hollywood elitism and strictly personal politics that led to Kimmel's Tuesday night plea for a Cassidy-Graham Act defeat. Kimmel responded to those remarks as well.
"Thanks, Brian. That was Brian Kilmeade. And the reason I found this comment to be particularly annoying is because this is a guy, Brian Kilmeade, who whenever I see him kisses my ass like a little boy meeting Batman."
"He's such a fan. I think he's been to the show, he follows me on Twitter, he asked me to write a blurb for his book—which I did, he calls my agent looking for projects."
He's dying to be a member of the 'Hollywood elite.' The only reason he's not a member of the 'Hollywood elite' is that no one will hire him to be one!"
"And you know, the reason I'm talking about this is because my son had an open-heart surgery and has to have two more, and because of that, I've learned that there are kids with no insurance in the same situation," shared Kimmel. "I don't get anything out of this, Brian, you phony little creep. Oh, I'll pound you when I see you. That is my blurb—that would be my blurb for your next book: 'Brian Kilmeade is a phony little creep'."
He also responded to President Trump's claim that Cassidy-Graham is a "great bill", both in his monologue and more directly on Twitter.
"There's no way President Trump read this bill that he says is 'great.' He just wants to get rid of it [Obamacare] because Obama's name is on it," said Kimmel. "The Democrats should just rename it 'Ivankacare.' Guaranteed he gets on board. Can you imagine President Trump sitting down to read a health-care bill? It's like trying to imagine a dog doing your taxes. It just doesn't compute."
@realDonaldTrump That's great news Mr. President! Does that mean he'll vote against the horrible bill he wrote?

— Jimmy Kimmel (@Jimmy Kimmel) 1505958384.0
Kimmel ended the segment by urging everyone who values affordable guaranteed healthcare for all Americans to contact their Senators again. He singled out five specific Senators who have a history of standing up to the GOP and the Trump administration.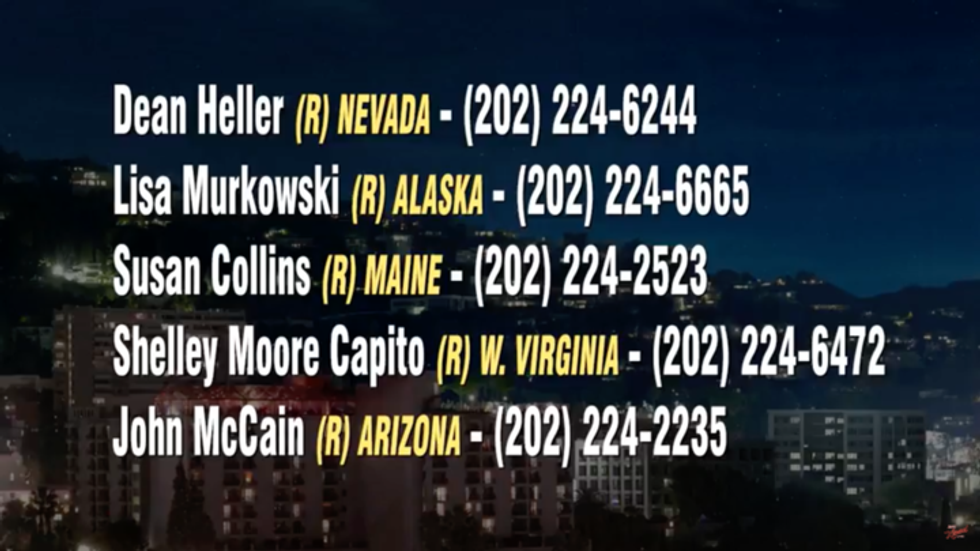 Kimmel Call to Action on Cassidy-Graham and Obamacare. (Photo from Youtube)
Watch the full monologue here.