[DIGEST: HuffingtonPost, Eastbay Times, Scientific American, CDC, Reuters, Psychiatriki, CDPH, Neurotoxicology ]
Sacramento resident Sandra Levario said her grandson loved to play in her backyard as a toddler. Levario's house lies in the shadow of a now-shuttered gun range. Despite its closure in 2014 and the fact that toxic levels of lead dust had coated nearly every surface of the building for years, the public was not informed of the lead hazard. But after her grandson developed attention deficit hyperactivity disorder, Levario suspected a connection to lead poisoning. "Now I won't let my grandkids even play in the yard."
---
California is undergoing a different lead crisis than Flint, Michigan. In some cases, the lead in children's blood is two or three times as high as found in Flint. While Flint's well-publicized problem came from water traveling through lead pipes, California's problem is harder to find and fix because much of the lead poisoning comes from legacy lead or contamination left over from the past— lead paint, leaded gasoline, industrial waste and even neighborhood gun ranges. This lead is in the soil in school playgrounds, on the walls of apartment buildings, in parks and vacant lots where children play baseball and in the air. And people don't want to talk about it.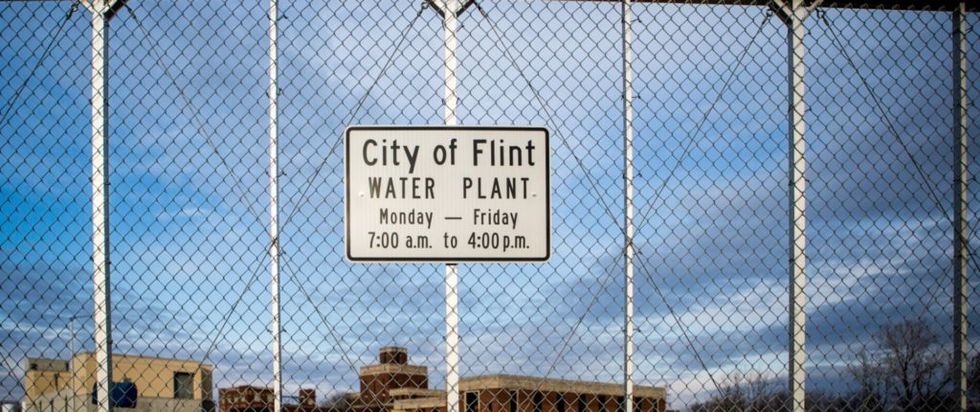 Credit: Source.
In one downtown Fresno zip code, 93701, nearly 14 percent of children younger than six years old had lead levels at or above five micrograms per deciliter of blood, the Centers for Disease Control and Prevention's current threshold for an elevated reading. Contrast this with Flint's recent crisis, where only five percent of children tested above the five microgram level for lead. In all, the Reuters' report found at least 29 Golden State neighborhoods where children had elevated lead levels. In Humboldt County where 303 children were tested, more than 10 percent showed high lead levels, according to the 2012 California Department of Public Health (CDPH) study.
In the 90011 zip code of Los Angeles, where a three-bedroom home goes for under $245,000, over five percent of children under six showed lead poisoning levels of 210 mcg/dL. In a neighboring district of Los Angeles, houses in zip code 90703, where a cheaper three bedroom home might cost $585,000, lead levels were above 1 mcg/dL in only 0.22 percent of children tested. But it is not all about the wealth. In the 92253 area of Riverside, California, where zero out of 353 children tested found positive for high lead levels, a three bedroom home can be had for under $160,000.
California does not require lead testing. So there is limited or no state data on lead levels in children in many California neighborhoods, including some of California's most expensive neighborhoods which include: 94027 – Atherton, 94062 – Woodside, 91302 – Hidden Hills, 94010 – Hillsborough, 94022 – Los Altos Hills, 94920 – Belvedere, 90210 – Beverly Hills, and 90402 – Santa Monica. Yet, the CDPH has known about the elevated levels for five years.
"The challenge is collecting the data and having the children tested in order to determine how dangerous the situation is." Larry Brooks, director of operations for the Alameda County Healthy Homes Department added that residents are reluctant to report the hazards, fearing landlords might retaliate.
Lead has been banned from gasoline, paint and water pipes yet still exists in urban areas, in houses painted earlier than 1978 and around lead mines. "Prevention should be the single most important way of dealing with lead poisoning," said Maria Samakouri, Assistant Professor of Psychiatry at Democritus University of Thrace and the University General Hospital of Alexandroupolis, Greece.
Lead can also be found in certain home remedies, imported pottery, candy, spices and cosmetics, according to the California Department of Public Health. Lead damages the brain, nerves, red blood cells, kidneys and reproductive systems. Lead can also cause high blood pressure and miscarriages because it easily crosses the placenta in a pregnant woman. Children who are exposed to lead may have problems learning and paying attention. Damage from lead exposure can be permanent.
The only way to know if there is lead in your body is to have a blood lead test. One- and two-year old children should be tested. The main treatment for lead poisoning is to remove the person from the place where they were exposed and allow the body to clear the lead.
Lead poisoning affects brain cells, nerve receptors and brain chemistry including dopamine levels (affected in Parkinson's disease), acetylcholine (affected in Myasthenia gravis and Alzheimer's disease) and glutamate (implicated in autism, antisocial behavior, schizophrenia, attention deficit disorder, and periventricular leukomalacia—injury to the white matter of the brain).
Early symptoms of lead poisoning and its effect on the brain are irritability, headaches and concentration issues in both children and adults. Continuous exposure in children may result in the inability to follow instructions, difficulty playing games and low IQ. The most common symptom in adults is peripheral neuropathy (nerve pain and damage) with foot drop or the inability to lift the toes when walking.
CDC recommended lead poisoning prevention methods include removing layers of paint from before 1978 that may contain lead, exercising caution when renovating older homes, drinking only cold tap water since hot water can leach more lead from lead water pipes, and administering blood tests to children under six  if there is a chance they are being exposed to lead.