Led by President Donald Trump, the Republican party has worked tirelessly to sow mistrust in a variety of voting methods across the country just ahead of the 2020 election.
Now, the California GOP is facing backlash for installing a number of illegitimate ballot drop-off boxes outside of gyms, gun stores, churches, and other locales in the heavily blue state.
A since-deleted tweet from California GOP Regional Director Jordan Tygh raised eyebrows when Tygh pictured himself with a ballot next to one of the fraudulent boxes, labeled "Official Ballot Drop Off Box."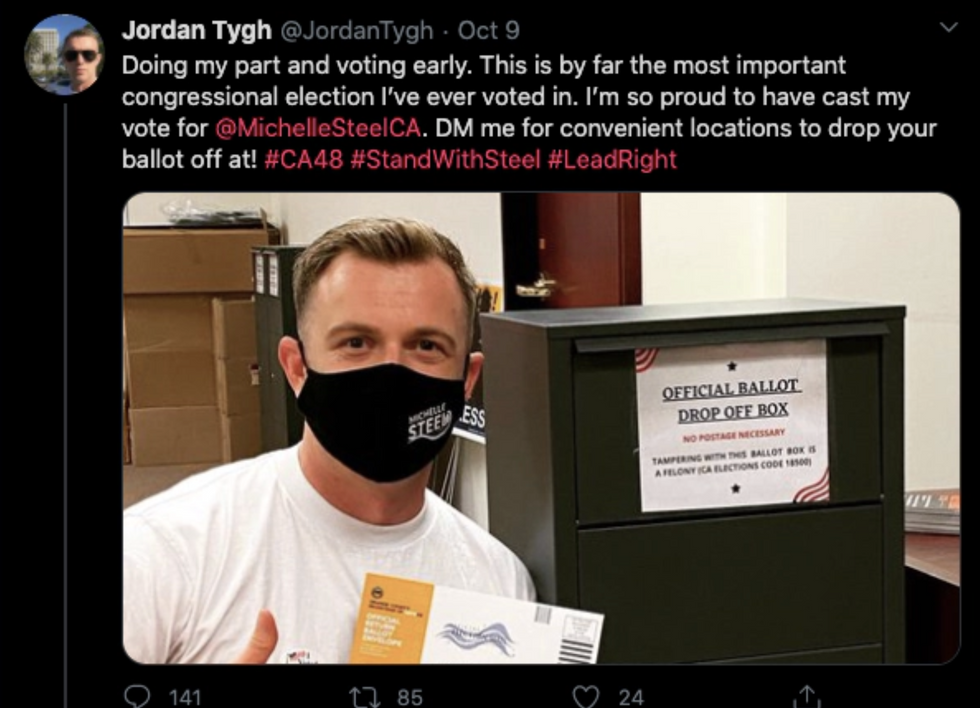 @JordanTygh/Twitter
Tygh told his followers to "DM me for convenient locations to drop your ballot off at!"
California's Democratic Secretary of State Alex Padilla said that these misleading boxes were breaking the state's election law:
"Operating unofficial ballot drop boxes — especially those misrepresented as official drop boxes — is not just misleading to voters, it's a violation of state law."
But the California GOP is only doubling down on the deceptive effort:
Like many states, it's legal in California for a voter to entrust others with the task of delivering their ballot. The California GOP attempted to use this defense to justify its actions.
In a memo from Padilla dissecting the boxes, the Secretary of State pointed out why this defense wasn't applicable:

"When a voter drops off a ballot in an unauthorized, non-official vote-by-mail drop box, no designated 'person' would be signing, as required by state law. A person designated by the voter to return their vote-by-mail ballot envelope to the county elections official within the required time period by law, must provide their name, signature and relationship to the voter."
People are calling for action against the GOP's tricks.
The scam, for many, laid bare the GOP's hypocrisy when it comes to claims of voter fraud.
The presidential election is on November 3rd, but voting is already underway in at least 40 states.