This article has been updated to correct the discrepancy in dates.
[DIGEST: NPR, The Guardian, BBC]
---
A Beatrix Potter book written over a century ago will be published for the first time in September after what would have been her 150th birthday.  The author of the beloved children's book The Tale of Peter Rabbit died in 1943.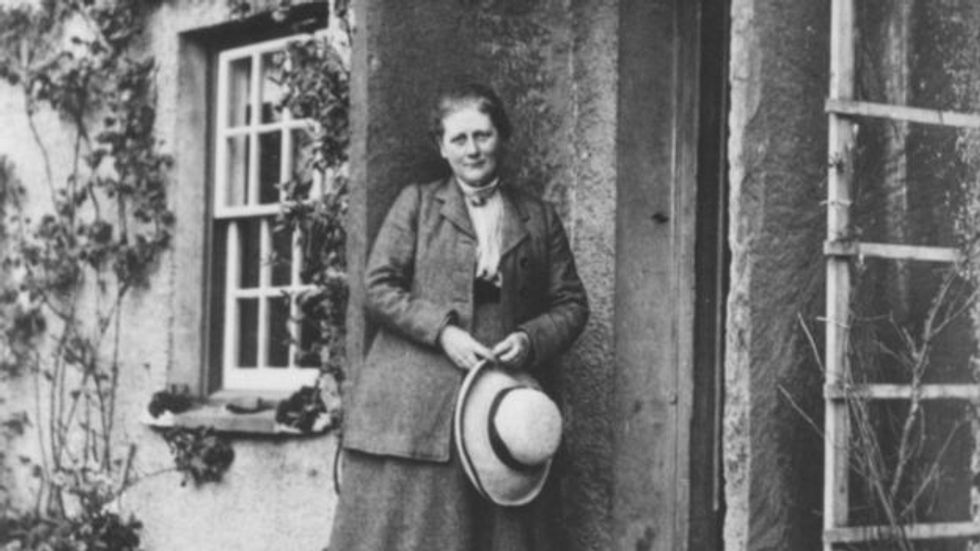 Credit: Source.
The story, The Tale of Kitty-in-Boots, has "all the hallmarks of Potter's best works," said Jo Hanks, a publisher at Penguin Random House children's books, who discovered the book. "It has double identities, colorful villains and a number of favorite characters from other tales (including Mr. Tod, Mrs. Tiggy-Winkle, Robby and Tabitha Twitchit)." Even an "older, slower and portlier" Peter Rabbit makes an appearance.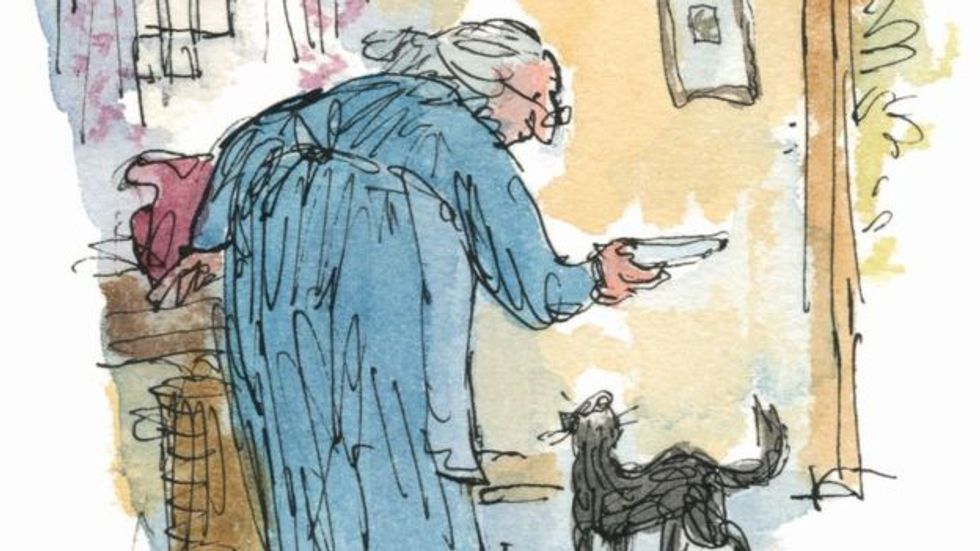 Quentin Blake, artist and illustrator, has created new art for Kitty-in-Boots
Hanks came across the book after seeing an out-of-print collection of Potter's writings, which made reference to the story. Hanks next turned to the publisher's archive, housed at London's Victoria and Albert Museum, where she found a typeset copy of the manuscript, along with some sketches.
"When I first found out that there could potentially be another tale [by Beatrix Potter], I think it's fair to say my heart skipped a beat," said Hanks.
Potter described the book to her publisher as that of "a well-behaved prime black Kitty cat, who leads rather a double life." The manuscript was largely ready to be published—Potter had told her publisher that it only needed a light edit. But the manuscript got shelved.
Linda Lear, author of Beatrix Potter: A Life in Nature, explained that the publishers were "less than enthusiastic" about the manuscript because there was 
concern that the story might not be appropriate for children. For instance, Kitty is a hunter and carries a gun. "And there was also the beginning of women's suffrage at that time, and it was sort of politically very dicey that this story might be published."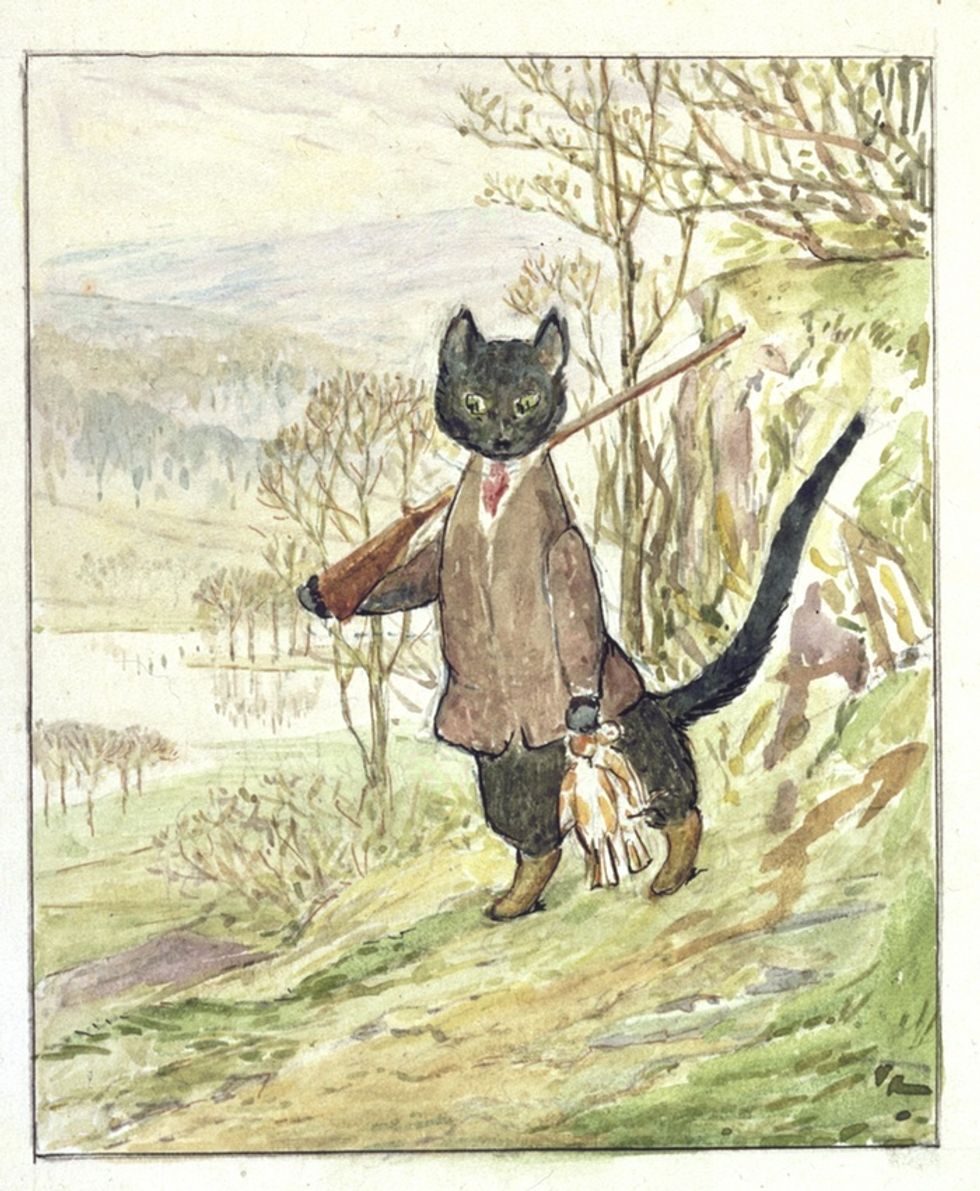 Potter's original illustration of Kitty. Credit: Source.
Potter described herself as "a good deal damped" by the story's rejection, but nonetheless said in letters that she wanted to finish it. However, "interruptions began," including the First World War, her father's death and her marriage, and she never did.
Hanks is happy to finish the job for her. For illustrations, she knew that the story "had to be" illustrated by Quentin Blake, the artist who illustrated Roald Dahl's books. "It's a challenging brief to illustrate a manuscript written over 100 years ago by one of the world's most beloved authors, but we knew that Quentin's energy, rebelliousness and humor were in keeping with Beatrix's own artistic sensibilities, and therefore exactly what this fantastic book called for."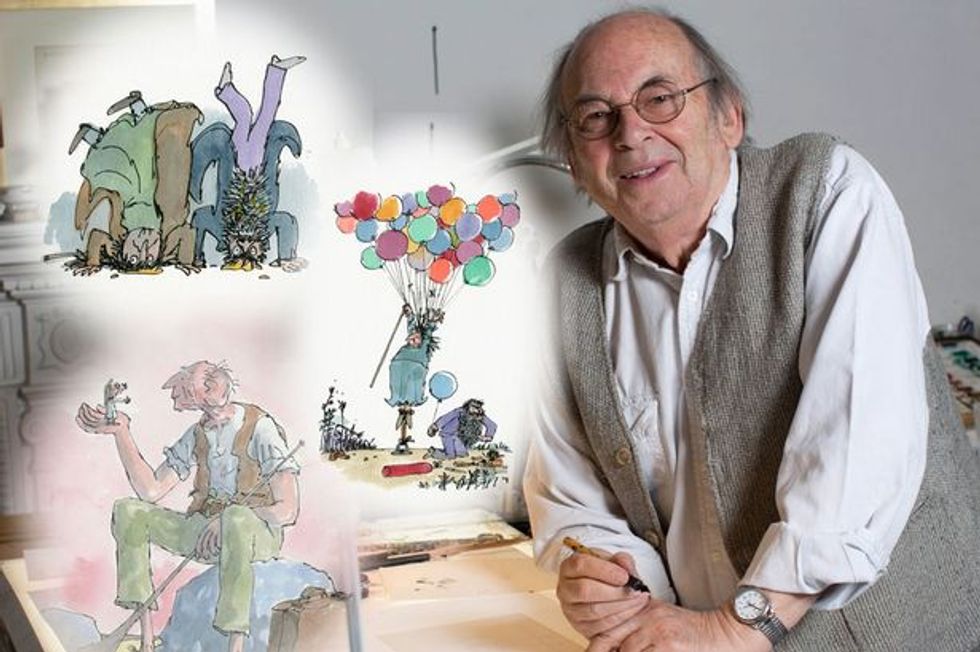 Quentin Blake. Credit: Source.
Said Blake, "It seemed almost incredible when, early in 2015, I was sent the manuscript of a story by Beatrix Potter; one which had lain unpublished for 100 years." He continued, "I have a strange feeling it might have been waiting for me."  
Readers will have to wait until September to pick up a copy (although presales have already topped Amazon's book charts). But the wait may be worth it. Said Hanks, "It's such an excellent tale. It's really the best of Beatrix Potter."