Former advisor to Donald Trump Steve Bannon attacked Fox News for finally covering the biggest story in United States politics—the January 6th House Select Committee hearings.
Bannon—a prior Trump pardon recipient—was cited for contempt for refusing to cooperate with the House inquiry into the Capitol riot that resulted in at least five deaths, over 100 injuries to law enforcement and millions of dollars in damages.
In a post to former Republican President Donald Trump's beleaguered Twitter clone, Truth Social, Bannon ranted:
"Fox News shows their hand—all in on taking down President Trump—now it's out in the open—IF YOU WATCH FOX U ARE ONLY AIDING AND ABETTING THEIR ANTI-TRUMP HATE"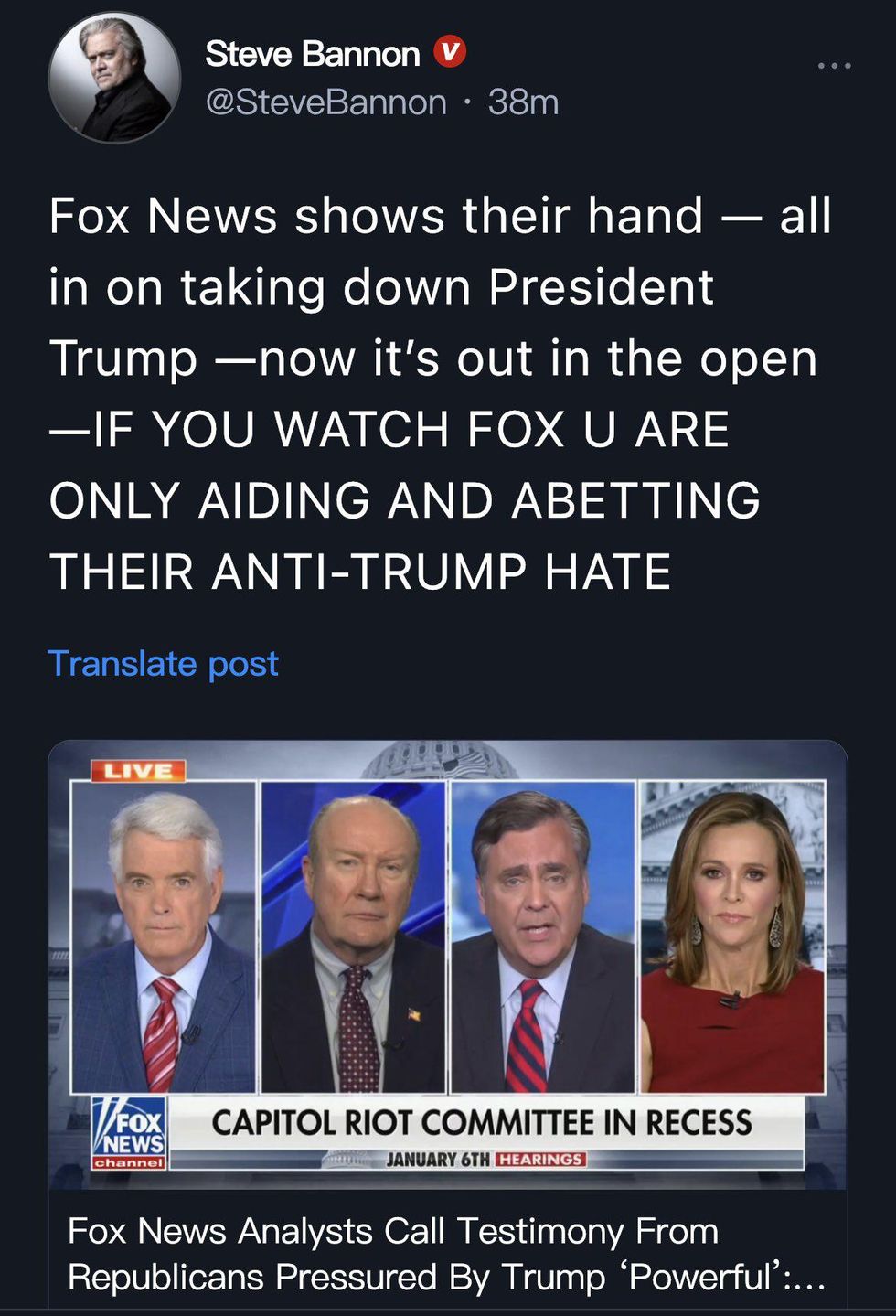 @SteveBannon/Truth Social
Fox News was widely criticized for their failure to cover or televise the January 6th hearings.

But now that they have devoted some airtime to the major story, conservatives like Bannon are making their displeasure known.
People were less than sympathetic to Bannon's complaints.
Some wondered what changed at Fox News.

Bannon has ranted about the hearings multiple times.

On his War Room: Pandemicpodcast the day after the first televised January 6th hearing, Bannon said:
"Trump won the presidency. And he is the legitimate President of the United States, and your guy's illegitimate and the American people are awakening to that."
"We don't care what you have to say. And I dare Merrick Garland to take that crap there last night and try to indict Donald J. Trump."
"We dare you because we will impeach you. We're winning in November and we're going to impeach you and everybody around you."
"F*ck—screw the White House. We're going to impeach you and everybody in the DOJ."
In public, Bannon has consistently parroted Trump's Big Lie about the 2020 election.
But testimony before the House Select Committee alleged Bannon knew it was all a lie, knew Trump lost by a wide margin, but repeated the lies to secure a pardon.
Bannon was pardoned by Trump as one of his last acts in office. Bannon was facing fraud charges for a border wall scam at the time.