Part of what has made New York Democratic Representative Alexandria Ocasio-Cortez such a political star is her total lack of fear of speaking truth to power—and that includes one of the richest, and arguably most powerful, men in the world, Elon Musk.
AOC has been mercilessly dragging the new billionaire owner of Twitter, who acquired the platform last month for $44 billion in a purported bid to strengthen "free speech" and make the virtual "town square" a place where discourse is exchanged more freely.
In practice, this has mostly resulted in free-flowing racial, ethnic and anti-LGBTQ+ slurs and disinformation by the far-right figures to whom he has become a hero , and a desperate plan to charge verified users for their blue check marks.
If charging public figures for their only means of ensuring rogue account holders don't imitate and speak for them online seems antithetical to Musk's stated goals, you're not alone.
AOC is not having any of it, and has been dragging Musk to filth over the idea.

In one tweet about the issue, AOC wrote:
"Lmao at a billionaire earnestly trying to sell people on the idea that 'free speech' is actually a $8/mo subscription plan"
It's not just AOC dragging Musk, though. His $8 plan has drawn widespread anger and mockery on Twitter, especially given the embarrassing way he arrived at the figure itself.
Musk first floated a $20 per month charge for verification, which sparked practically everyone with a blue check mark to say they'd simply delete their accounts altogether instead.
Others mocked Musk as being desperate for money now that his $44 billion reality has set in and advertisers have begun leaving the platform over all the hate speech and unchecked conspiracy theories now freely flying around.
Musk rolled with all the mockery and stuck to his guns for a day or two, until none other than iconic author Stephen King pushed back on the idea—whereupon Musk made an absolute fool of himself in response.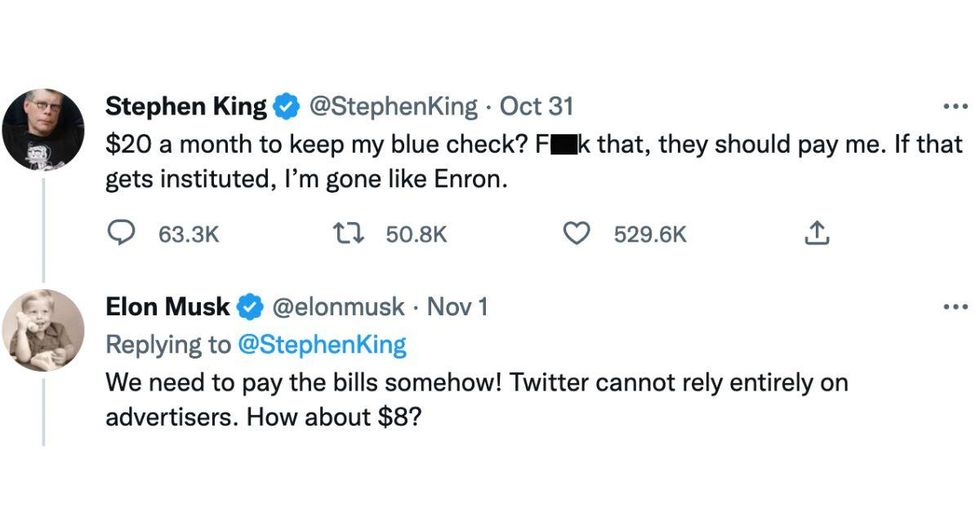 After King tweeted "fu*k that" in response to Musk's proposed $20 charge, Musk began groveling at King to approve a smaller $8 per month charge.
He tweeted:
"We need to pay the bills somehow! Twitter cannot rely entirely on advertisers. How about $8?"

As you might imagine, this beggary only made the mockery of Musk even worse.
And AOC quickly jumped into the fray.
She followed up her initial drag of Musk with another perfectly worded tweet.
Musk, of course, immediately began hitting back... but that didn't really go very well for him either.
First, Musk responded by tweeting at her, "Your feedback is appreciated, now pay $8." Sick burn as always, Elon.
Then he tried to drag her for the prices on the merch she sells on her website, which pretty much blew up in his face after AOC explained why the prices are so high—because unlike Musk's notoriously low-paying and abusive factories, she employs a unionized workforce with extensive benefits to make her products.
Many on Twitter were absolutely loving all the punches AOC was landing.

Musk got a few shots in as well--and even reportedly retaliating by hobbling certain features and functionalities of AOC's account, though there's no way to prove he did so.

But in the end it was Ocasio-Cortez who got the last word.

Your move, Elon. When you're done begging people for $8, of course.