With just one theatrical release, the first quarter of 2018 proved to be a significant success for horror movie fans. Helmed, written by, and starring John Krasinski from The Office, A Quiet Place snuck into theaters and walked away with a debut box office total of more than $50 million, making it the second biggest debut of the year behind Black Panther. Toward the end of its third week in theaters, the movie had earned more than $213 million.
Despite being in a genre that doesn't often get box office pull and critical praise, A Quiet Place was pegged as an "extraordinary piece of work" by the king of horror, Stephen King, and continues to hover around a 95% fresh on Rotten Tomatoes. In response to Krasinski's horror masterpiece, Paramount announced at CinemaCon 2018 that it was moving ahead with a sequel.
---
A QUIET PLACE is an extraordinary piece of work. Terrific acting, but the main thing is the SILENCE, and how it mak… https://t.co/tY2ip3uhcs

— Stephen King (@Stephen King) 1523048451.0
&ref_url=https%3A%2F%2Fwww.boston.com%2Fculture%2Fentertainment%2F2018%2F04%2F12%2Fjohn-krasinski-stephen-king-a-quiet-place&tfw_creator=kslane
Anyone that has seen the movie knows that there wasn't much of a set up for a sequel involving the Abbott family. Without giving too much away, it ends on an ambiguous note, but not one that warrants following the exploits of the tragic family any further. Their story is, for the most part, complete, and a sequel only risks lessening everything they went through. A sequel could divert attention to a different family or group of survivors, but then the movie risks being a cheap rehash of a surprisingly successful formula. There is also the potential for humanity to rise up against the sound-sensitive beasts, but that could go south into cheesy action movie territory.
Based on the many news clippings that Krasinski's patriarchal figure, Lee, has posted in his outpost, there appears to be quite a sizable backstory that could fill up a two-hour prequel. While prequels can sometimes be viewed as a cheap means of keeping a franchise going, A Quiet Place deserves a set-up. Where did production designer Jeffrey Beecroft's remarkable creatures come from? How did the world handle dealing with a seemingly indestructible and unavoidable enemy? It doesn't need to be an elaborate look into the monster's home world, but to see how they rose to the top of the food chain would be a treat.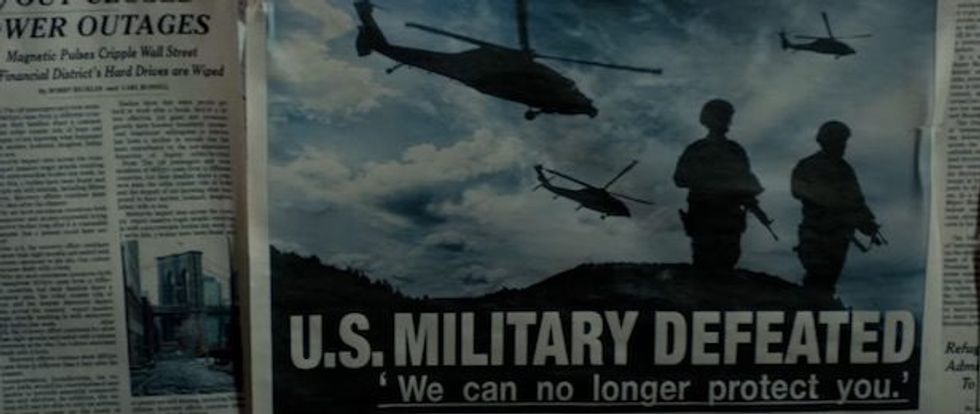 A Quiet Place picks up just under three months after what appears to be the collapse of civilization and leaves the viewer just as perplexed as to the origin and physiology of the monsters as the Abbott family. A prequel could expand upon that unfamiliarity while providing viewers with a glimpse into a unique "end of the humanity" scenario.
So far, Jim Gianopulos, chairman-CEO of Paramount, only announced that there would be a sequel. Whether or not Krasinski would return to the writer and director chair is unknown, though, considering the success of A Quiet Place, it would be the most favorable scenario.