Schools across the United States offer lunch options and meal plans for students as alternatives to a traditional packed lunch, but what happens when a student can't pay that lunch bill?
---
It is called "lunch shaming," and it happens more often than you think.
Some schools provide kids an alternative lunch, like a cold cheese sandwich. Sometimes, in lieu of sandwiches, milk and fruit, cafeteria workers have even thrown out or taken away the hot meals of students who could not pay.
Some schools will allow students to pay for their meals by assisting in services, such as cleaning the lunchroom or cafeteria. But these tasks are performed in front of their peers, revealing obvious wealth discrepancies and economic privilege, as well as generating an unintentional sense of class discrimination amongst students.
And some students go hungry.
In Alabama, one student was stamped on the arm with "I Need Lunch Money," like a scarlet letter of his poverty, as a method of informing his parents that his lunch account balance was low.
Many across the nation may have no idea their own children are facing discrimination in the form of shaming, but New Mexico is the first state to take steps to end these actions.
Last week, Governor Susana Martinez signed the Hunger-Free Students' Bill of Rights, directing schools to work with parents to pay their debts or enroll in federal meal assistance for their children's meals, effectively ending the temptation to engage in practices that can embarrass children.
The bill's supporter claim it is the first of this type of legislation in the United States, and it applies to public, private and religious schools, as long as they are recipients of federal subsidies for students' breakfasts and lunches.
This law's passage is a win for anti-hunger activists horrified by these shaming practices.
Jennifer Ramo, the executive director of anti-poverty group New Mexico Appleseed, explained, "People on both sides of the aisle were genuinely horrified that schools were
allowed to throw out children's food or make them work to pay off debt. It sounds like some scene from 'Little Orphan Annie,' but it happens every day."
In fact, New Mexico Appleseed is the group that pushed for this law.
However, this is truly more than a New Mexico problem — it is happening all over the United States. According to the School Nutrition Association, over three-quarters of school districts had uncollected debt on their books at the end of the last school year. Some of these schools had unpaid balances of a few thousand dollars — the median lunch debt, as determined in a survey by the association — but others were much higher, extending to $4.7 million.
Of course, if a debt is considered uncollectable, the schools must write it off. They cannot neutralize the loss with federal funds and must utilize other sources of revenue, like the profits from the sales of full-priced snacks and meals, or acquire reimbursement from the district. In these cases, most districts attempt to settle outstanding balances through automated calls, text messages and emails, but they may hire outside agencies to assist.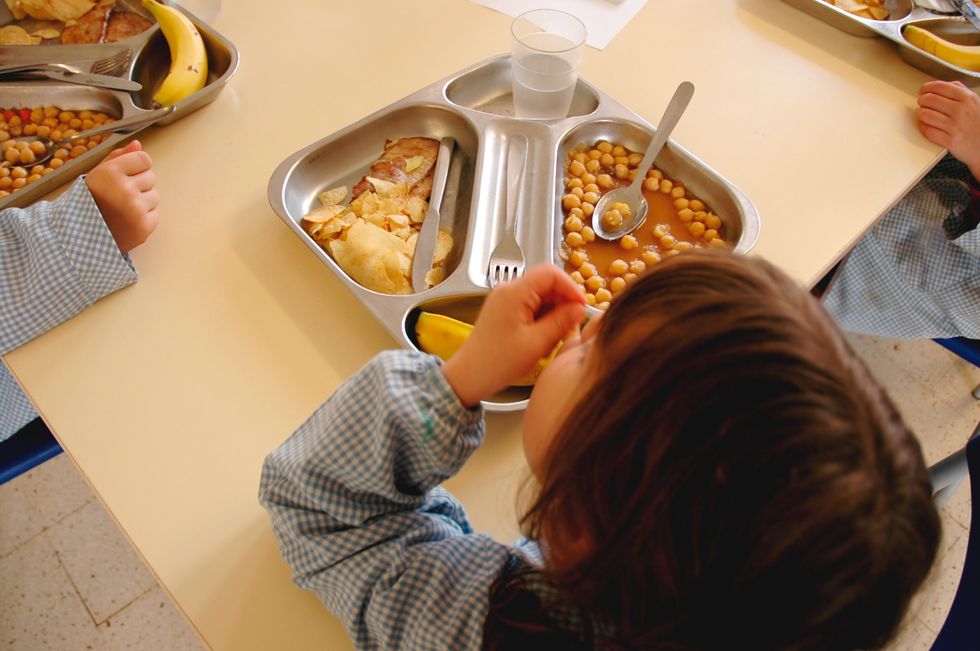 Credit: Source
In the past, the Department of Agriculture determined that these issues of debt should remain within local jurisdiction, after looking into whether national standards of handling meal debt had merit.
The New Mexico law, which goes into effect July 1, will still allow schools to withhold transcripts and remove privileges. Also by July 1, the USDA, which administers the federal school meal program, will require that school districts across the country have a written policy on what to do when kids can't pay, and that these policies go out in communications to parents, staff and the community.
Though this is still a widespread national issue, other states are addressing the matter; California and Texas have both introduced anti-shaming legislation.
Ms. Ramo expanded upon her point: "I don't think the main intention of the school meal debt policies is to humiliate. Mostly, school nutrition directors are trying to balance their budgets and they see this is a necessary but effective evil." However, she at length concluded, "We have to separate the child from a debt they have no power to pay."